Change Broker
GlaxoSmithKline is overhauling the drug discovery and development process, one more time. The crucial difference: putting big decisions in the hands of our scientists.
lenty has been said about the problems of the pharmaceutical industry and the need to reinvigorate the model. But how do you go about it? What changes can be made that will have notable improvement without risking the core competency of the company?
In my 17 years in the industry, I've witnessed many major transformations. My company, GlaxoSmithKline, had been working on change since long before I was appointed chief strategist of research and development in August 2008. In fact, the entire pharmaceutical industry is in tremendous flux, in all aspects of its operation; whether it's understanding the pathology of disease, the introduction of novel technologies, or adapting the business model to meet renewed financial and societal expectations, adaptation...
It's now my job to help continue the reshaping of GSK's research and development (R&D) structure, to empower scientists and leaders to create change that makes sense and that provides them with a sense of accomplishment.
In this task I draw on many life experiences. Reforming the research and development structure of a major company wasn't exactly on the list of things I wanted to do when I was growing up, but in many ways the challenges feel familiar to me. My mother is from Ghana and my father is English, and although I was born in the United Kingdom, we lived in Ghana for most of my childhood. Even after we moved back to the United Kingdom, we'd return for many vacations.
As I grew up, I watched Ghana change dramatically, and began to notice the difference between effective leaders and ineffective ones. My mother set up an educational institute for adult literacy that helped Ghanaians get jobs and educate their families, empowering them to change their lives. In contrast, I watched how ineffective leadership and multiple coups brought the country, which was relatively prosperous in the late 50s, to near poverty in the 70s. Even though the scale of the problems that my mother tackled were very different to those of the governing body, I could see the wide impact that passionate individuals, like my mother, could have on a multitude of others.
From the earliest time I can remember, I wanted to be a doctor. When I was about seven or eight years old, my parents took me on a sojourn to see one of their friends who ran a clinic in Ghana. I spent the day with Dr. May, as she met patients, listened to their symptoms, and prescribed a course of treatment. I remember studying the faces of the patients. They came in distracted and worried and left her office comforted, feeling taken care of.
In due course, I applied and went to school for medicine, earning my MD at the University of Leeds, and began practicing in obstetrics and gynecology within the UK National Health Service. Having seen Ghana change so drastically, I wanted to feel like my work could impact more than the hundred or so patients I would see in a year. My route was to enroll in an MBA program at INSEAD in France. There, I was surrounded by people from many nations and all walks of life—from politicians and bankers to engineers, and even an Israeli fighter pilot. One of the participants in the executive MBA program was head of the Medical Division at Glaxo. He talked about the challenges and rewards of developing drugs. I was quite taken by the promise of developing medicines that had the potential to help hundreds of thousands of patients, and joined the company in 1992.
My first project was to help bring an unheralded new medicine to market. The drug, called Zofran, was for cancer patients. It certainly didn't have the high profile of a new chemotherapeutic agent—all it did was help prevent vomiting. Yet the impact it had on patients was astounding. I'd receive letters from people undergoing chemotherapy who couldn't tolerate the treatment because of their nausea. When they took the medicine I helped develop, they felt not only relief from the symptoms, but also hope about their ability to fight the cancer. That had a huge impact on me.
With the 2001 merger of Glaxo Wellcome and Smith Kline Beecham to form GlaxoSmithKline (GSK), I experienced my second major pharma shake-up (my first was the merger of Glaxo and Wellcome). I understood the reasoning behind it: We really had little choice but to change since neither Glaxo Wellcome nor Smith Kline Beecham were achieving a satisfactory level of research productivity. I led the transition team that brought the two companies' medical affairs divisions together. The merger was an important transition for me not only because I took on new responsibilities, but also because I gained first-hand experience of the major changes in R&D structure that J.P. Garnier instituted when he came on as CEO.
Garnier's vision was decentralization. He reorganized the R&D efforts into six Centers of Excellence for Drug Discovery, or CEDDs. Rather than have an R&D biology department and a pan-R&D chemistry department, and so on, each CEDD would have the scientists and experts it required from diverse fields working around a single therapeutic area. At the time, this was a radical change to the traditional structure of R&D in the industry, but other companies soon followed suit.
We've come a long way in six years. At the time of the merger, we had 12 New Chemical Entities (NCEs) in development and our pipeline was ranked number seven in the industry. By the end of 2008, we had 20 NCEs and our pipeline was ranked number one by analysts. A lot of the success of those years can be credited to the CEDD structure. The CEDD concept was considered extremely successful because it recognized the need to integrate functions and focus on delivery of medicines in defined areas. There were other contributing factors, too, including successful licensing of products developed outside the company, a more realistic and integrated assessment of risk, and a major focus on creating smaller, more accountable teams.
When I started as the senior vice president of one of GSK's Medicine Development Centers (MDCs), I was tasked with building the pipeline of medicines for inflammatory, gastrointestinal, musculoskeletal, and urogenital diseases. The MDCs took over where the research teams within the CEDDs completed their work. Their discoveries were passed off to us for development into the drugs that would ultimately make it into humans.
While development isn't given as much attention as discovery, a lot of the value of a medicine is created through thoughtful clinical trial design, and by exploring the profile and potential of a drug in a clinical setting. One of the things I've always felt very strongly about was making sure we consulted—where possible —with patients and physicians as we designed a trial, since they are the ultimate end-users of the medicine. In one recent case, we were developing an injectable medicine for pediatric patients. The parents we talked to told us they had reservations about frequently injecting their child with medicine. Their input meant that we reviewed better ways of giving the medicine, which will ultimately create a more "user-friendly" drug.
When J.P. Garnier retired and was replaced by Andrew Witty, in April 2008, the R&D organization at GSK was moving full steam ahead with its plans to enhance its strategy.
The first part of the effort was an extensive review of our 17 therapeutic areas within the CEDDs, with the aim of identifying those areas with the greatest scientific promise. As part of that process, we consolidated some therapeutic areas and made the decision not to pursue other areas. The final eight therapeutic areas now include: biopharmaceuticals, immuno-inflammation, infectious diseases, metabolic pathways, neuroscience, oncology, ophthalmology, and respiratory disease, each within the CEDD structure.
The Greenstreet method for revamping R&D
The structure of the CEDDs made sense, but we saw room for improvement such as fostering the competitive spirit and incentive that really drive the scientists at biotech companies and academic research labs. The original model was still too safe. We decided to subdivide the CEDDs into lab-sized groups ranging from five to 60 people per unit. These discovery performance units (DPUs) are responsible for developing their own projects and drugs and for proving their effectiveness with preclinical trials.
These DPUs are held to the discipline of having to write their own business plans and defend them. They also have the freedom to go outside the company to build deals and partnerships with academia and other biotechnology companies. Creating a more entrepreneurial environment for scientists is the overriding goal. On the basis of their business plans, the DPUs receive funding for three years, at which time their projects are reviewed and a decision made whether to terminate or continue. These groups control their own budgets, which can be spent internally or externally, to deliver the best possible pipeline. The CEDDs provide the overarching leadership and guidance for DPUs across the therapeutic areas. As of April 1, 2009, we had 35 DPUs.
To ensure that we are producing drugs that patients want, that the market supports, and that governments and insurance companies are willing to pay for, the DPU's funding applications are reviewed not only by senior GSK R&D executives, but also by the newly formed Discovery Investment Board (DIB) that includes experts from venture capital companies and biotech CEOs. This board evaluates the research plans and funding, but will also assess the capabilities of the DPU management teams. We realized that as insiders we are not always the best people to assign value to the things we produce. There are times when an outsider's perspective is helpful in revealing faults in our thinking.
My role when I was hired as the chief of R&D strategy in August was to help build a small diverse group of experts with science, business, and accounting expertise. This group's role is to ensure the plan—which looks great on paper—is implemented effectively on the ground. This means that we will be defining our metrics for progress much more stringently and communicating with team leaders as they establish and define their goals and plans.
We are pledged to leave the decisions to the people who are best informed and therefore best able to make the judgment. We want to challenge our teams, empowering them to take ownership for the success or failure of a project, creating a structure where our scientists feel their input is a key component of that equation. Another part is ensuring that every person on a team is responsible not only for the job functions listed on their resume, but for the overall success of the team. Ultimately, the success of any great plan is the flexibility to modify it when we identify aspects that aren't working as we had envisioned.
Rethinking R&D has to go beyond simply changing the structure to enhance research and development productivity. We can work on fostering sleeker research teams within our own company, but we don't believe that we have a monopoly on great talent and scientific expertise. In fact we know there are expert research teams outside our company's walls that could greatly contribute to our research and development goals. We have been aggressively increasing our outside collaborations, and we believe that as much of 50% of our drug discoveries could be obtained from outside the company.
One way we've started doing this is to create our own venture capital fund to seek out and invest in innovative start-up companies that are working on some of the disease areas that we are focusing on. While this fund isn't managed by R&D, these early-stage investments give us the chance to watch technologies develop so we have a better sense of hot areas as they mature.
Last year GSK launched a new concept to tap into the highest quality thinking in academia to optimize the early clinical development of new medicines in a model of shared risk and reward. Academic Incubators have been formed in which leading clinicians and scientists at carefully selected academic institutions partner with GSK drug developers to design and conduct experimental studies to investigate the efficacy and safety of novel drugs originating from GSK or from academia. Incubator projects are now in place at the University of Cambridge, United Kingdom. Our agreement with these labs gives them access to clinical research and imaging facilities at GSK, while the university bears the cost for some the development of therapeutics for obesity and addictive disorders. If their studies prove successful, GSK will pick up the development costs.
We understand that the major currency of the academic researcher is counted in quality and number of publications, thus we encourage researchers to publish all of their findings at a much earlier stage than ever before.
Another exciting partnership with academia is the 5-year, $25 million–plus collaborative agreement that GSK signed with the Harvard Stem Cell Institute (HSCI) to build a unique alliance in stem cell science. The collaboration will integrate HSCI's world-class stem cell expertise with GSK's pharmaceutical capabilities to drive advances in drug discovery research. This will include, for example, a staff exchange program where HSCI and GSK researchers will spend up to several months in each other's laboratories.
In addition to opening our doors to academics for collaborative projects, our R&D business strategy makes it easier for academic researchers to access tool compounds. These are drugs that GSK has decided not to develop but that can be used in experimental models. These compounds can be used to further basic research in many areas and can be explored for therapeutic purposes that we may have missed.
While the goal of our strategy is to imbue our company with entrepreneurial spirit, we have to wait and watch for aspects we may have missed. We've guided our DPUs as much as we can; now it's time to take off the training wheels and see how well these groups do on their own. It's a big step forward.
These are exciting times. We will maintain the services that only a large pharmaceutical company can provide but have driven further than ever in developing an entrepreneurial atmosphere within the company R&D structure and a new openness to the outstanding research being done outside our walls.
Yvonne Greenstreet is the Senior Vice President and Chief of Strategy for Research and Development at GlaxoSmithKline.
Interested in reading more?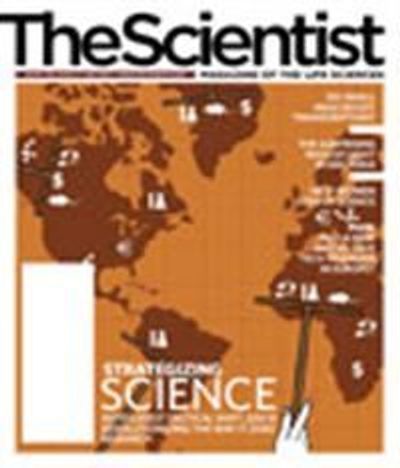 Become a Member of
Receive full access to digital editions of The Scientist, as well as TS Digest, feature stories, more than 35 years of archives, and much more!