Contributors
William J. Pearce is head of the Genito-Urinary & Reproductive Pharmacology section of the Faculty of Pharmacology & Drug Discovery at F1000, and a professor of physiology at Loma Linda University School of Medicine. He writes in this issue about the inappropriate use of citations in science papers, a subject with which he is very familiar—he published his first peer-reviewed paper 30 years ago, has served on dozens of study sections for the National Institutes of Health and the American Heart Association, and is currently part of the editorial board of five journals. Join the conversation in "Citations: Too Much, or Not Enough?" on page 29.
David Berreby is a freelance science writer who likes to tackle "big" questions such as "The Limits of Understanding" (p. 28). He's the award-winning author of Us and Them: The Science of Identity, and has written for the New Yorker, The...
"Science turns me on…Intellectually," says Cristina Luiggi. As one of The Scientist's summer editorial interns, she's been getting plenty of excitement. "They put me to work straight away," she says. "I get to immerse myself in so many different fields." She previously interned at Seed and Esquire magazines after graduating from the Newhouse school of Public Communication at Syracuse University in 2009. Her desire to share her love of science with the world drew her to science writing from her undergraduate chemistry experience, where she worked as a research assistant at Memorial Sloan-Kettering Cancer Center and the National Institute on Aging. "I like putting it all together and storytelling—that process of putting together all the scattered pieces."
João Fazenda has been publishing comic books since he was 18. His illustration for this month's quotes page (p. 16) is his first for a science magazine, but he was excited by the challenge. "I'm willing to do as many different things as I can, to try these different types of illustration and drawing," he says. He has lived his entire life in Lisbon, Portugal, where he got a degree in painting from the Lisbon School of Fine Art. He now splits his time between Lisbon and London. He has been illustrating magazines, newspapers and children's books since 1999. Fazenda has become more interested in animation and is currently using his storytelling abilities to direct and animate a short film, due out at the end of the year.
Interested in reading more?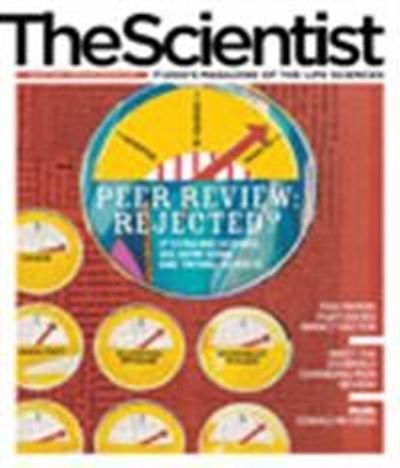 Become a Member of
Receive full access to digital editions of The Scientist, as well as TS Digest, feature stories, more than 35 years of archives, and much more!