Contributors
Kai Simons began researching cell membrane biology in the 1960s and 70s as a postdoc at Rockefeller University in New York, and he's never looked back. "The field [is] at the crossroads of protein and lipid biochemistry, as well as cell biology and biophysics," making it a challenging—but exciting—area to work in, says Simons, director emeritus at the Max Planck Institute of Molecular Cell Biology and Genetics in Dresden, Germany. Simons and his colleagues recently discovered that lipids and proteins interact to form transport carriers in the cell membrane, research described on page 24. Unearthing these interactions, known as the raft concept, could help "provide novel targets for drug discovery," says Simons.
As former editor of the research policy newsletter Research Europe, Colin Macilwain has covered the European Research Council since it opened its doors. "If Europe is to remain a player, the ERC really has to succeed," he...
As The Scientist's art director, Joelle Bolt is responsible for "bringing the words to life in print through innovative graphics, illustration, and photography," she says. Since joining the magazine's staff in 2004, Bolt has worked on nearly 100 monthly issues and supplements, and was on staff during The Scientist's redesign. "The magazine has come a long way," she says. "The visuals now parallel the content and challenge our readers." Bolt studied graphic design at Drexel University and hopes to further her studies in interactive media in the near future. Bolt is leaving The Scientist after this issue to start her own design company that will provide art and creative direction for various publications.
Sarah Greene , incoming editor-in-chief of The Scientist, is shown here as she was featured in the March 21, 1994 issue of this magazine, in an article on scientists as book publishers. Though trained as a soil microbiologist at Cornell University, she has been an entrepreneur in scientific publishing and new media for 30 years. "It's been amazing to watch the evolution of The Scientist since this article appeared 16 years ago. I'm thrilled with the prospect of working with the best and the brightest in both the press and the lab." In addition to founding Current Protocols and HMS Beagle, she created the online, evidence-based Best Practice of Medicine and the award-winning web magazine Praxis Post. She also developed eBriefings and Science & the City at the NY Academy of Sciences, and directed the expansion of the New York Times' health website at http://nytimes.com/health. Her website is http://sarahgreene.net.
Interested in reading more?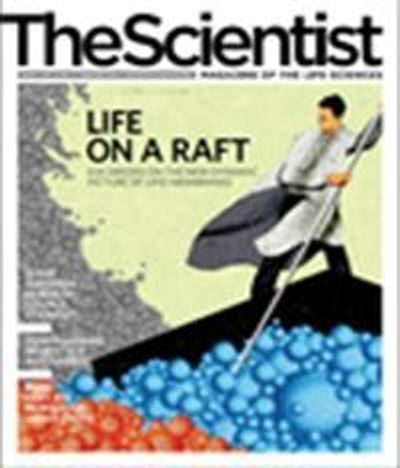 Become a Member of
Receive full access to digital editions of The Scientist, as well as TS Digest, feature stories, more than 35 years of archives, and much more!