Contributors
Pascale Cossart is fascinated by the bacterium Listeria monocytogenes. Cossart started studying the deadly pathogen in 1986 at the Pasteur Institute. At the time, numerous labs were trying to identify genes responsible for virulence in various bacteria. Her work with Listeria led to new concepts in infection biology. "By chasing answers to the questions that struck my curiosity, I've let Listeria lead me into new fields of biology such as RNA-mediated regulation," she says. Now the foremost authority on the pathogen, Cossart's work (described in "The Maverick Bacterium") has won her multiple awards, which include the 1998 L'Oréal-UNESCO Award for Women in Science.
As the Curator of Science and Technology for the Massachusetts Institute of Technology Museum, Deborah Douglas oversees the university's extensive collections, including those accumulating dust in basements. It was while rummaging through one of these storerooms in 1999 that she came across the...
In this month's Opinion ("Outreach Going Wrong?"), Elizabeth Corley reveals a growing knowledge gap about emerging nanotechnologies between different communities, raising concerns that the group most in need—those with the lowest levels of formal education—are not getting crucial information. But there's an accessible solution—the internet, which "could serve as a way for scientists and experts to connect with lay audiences across all socio-economic groups about emerging technologies," she says. Corley is the Lincoln Professor of Public Policy, Ethics and Emerging Technologies at Arizona State University. She also serves as a co-principal investigator for the Center for Nanotechnology in Society at ASU, which examines the public's and scientists' perceptions about nanotechnology.
Jason Raish loved drawing for fun while growing up, but wasn't convinced that he wanted to make a career out of it until his senior year at the Fashion Institute of Technology (FIT) in New York City, when he was inspired by a museum dedicated to illustration. In this issue's cover story on vaccine development, Raish created a two page spread in "Nice Shot", depicting men in lab coats planting and watering hypodermic needles filled with golden-colored vaccines. "For me, vaccines bring to mind needles and guys in lab coats. I tried to think of an interesting way to show vaccines being developed." Raish's work can be seen in a range of publications, including The Washington Post, slate.com, The Wall Street Journal, and The LA Times.
Interested in reading more?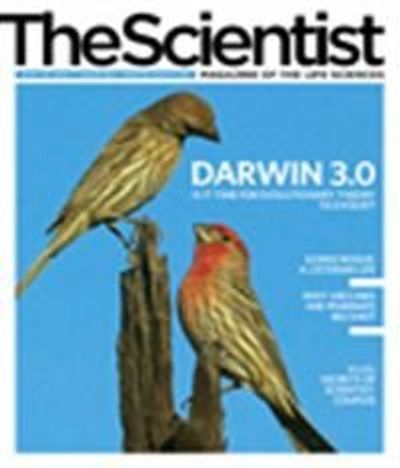 Become a Member of
Receive full access to digital editions of The Scientist, as well as TS Digest, feature stories, more than 35 years of archives, and much more!