Contributors
It was while he was working in a German clinical obesity and diabetes lab that Christian Weyer realized willpower only went so far in helping patients lose weight. Motivated by his desire to understand the pathophysiology of the two diseases, Weyer left the clinical world and eventually signed on with San Diego-based Amylin Pharmaceuticals in 2001 as vice president of Medical Development. "We treat [obesity] the same way we did 20 to 30 years ago," says Weyer. "But as the scientific understanding improves, our ability to create successful therapeutics becomes greater and greater." Working under the assumption that obesity is regulated by the complex interplay of multiple hormones, Weyer and his colleagues discovered the synergistic interaction between amylin and leptin, which helps stimulate weight loss (p. 34). A duel-hormone therapy is currently in late-stage testing.
Alissa Poh started where many science journalists do—in the lab. However, "studying one molecule...
Margaret Guthrie joined The Scientist in January 2007 as the editorial administrator, obtaining permissions and image rights as well as proof-reading and writing articles. "It's a great situation, because I get to write about what interests me, and so many parts of science fascinate me," she says. Before joining the magazine, Guthrie says she did "a little bit of everything"—she has been a news editor, a book editor, a journalist and an author of eight cookbooks. On page 21, Guthrie describes a new technique for tracking wolves, now delisted as endangered.
"Art is the best way to convey scientific concepts…as well as engage readers who are scientists," says Greg Betza , a New Jersey-based illustrator whose work highlights this month's feature on obesity and diabetes research (p. 34). The artist uses the instruments and notes of a symphony to depict the complex interactions that happen between hormones as they drive the two diseases. Betza's style is governed by "versatility," he says, playing with shapes, colors and moods. Educated at Parsons School of Design in New York City and mentored by the late David J. Passalacqua, Betza now works as a freelance illustrator and is a member of the illustration collective Studio 1482. His work has been featured in the Chicago Tribune, E&J Gallo, Publics NY, and DDB Canada.
Interested in reading more?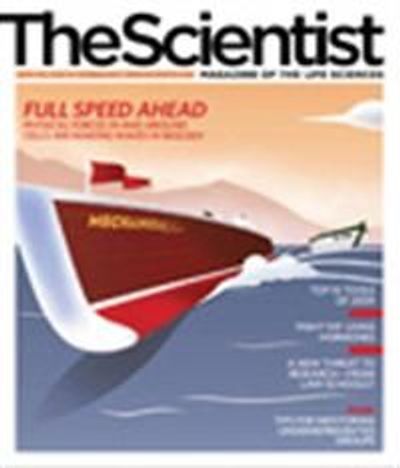 Become a Member of
Receive full access to digital editions of The Scientist, as well as TS Digest, feature stories, more than 35 years of archives, and much more!