Contributors
Sarkis Mazmanian started college at the University of California Los Angeles as an English major, with dreams of becoming a poet. He soon "realized that it wasn't something that I could make a living at," he says, and decided to turn to biology instead. "Trying to understand evolution and nature was really appealing to me," he recalls. He started studying pathogenic bacteria, the dominant area of interest in microbiology at the time. Now a professor at the California Institute of Technology, Mazmanian explores the role of bacteria in the development of the immune system. In The Microbial Health Factor, he and Sara McBride—a senior research technician in his lab—discuss the "intricate interactions" between those symbiotic bacteria that live in the mammalian gut and their animal hosts.
"I always liked science, but I was not a lab rat," says Megan Scudellari. "I hated everything about the lab." Then...
Sean Harper decided he wanted to become a doctor when he was 15 years old. But after a brief stint seeing patients in Internal Medicine and Gastroenterology at Harvard, he realized that he was most interested in developing human therapeutics. So he launched his industry career as associate director of clinical research at Merck Research Labs, and hasn't looked back since. He is now the senior vice president of global development at Amgen, based in California. In Striking the right balance , he discusses the importance of industry in reforming the health care system. While the basic discovery research leading to such developments can be completed in academia, "the actual translation of that discovery work into therapeutics is something that uniquely exists in an industrial setting," he says.
The partnership between Gina Triplett and Matt Curtius started when Curtius needed help with one of his paintings. This favor quickly turned into a nearly decade-long collaborative art-making adventure. Sweethearts basically since they met at the Maryland Institute College of Art in Baltimore, Triplett and Curtius have lived together and "work[ed] on top of each other," says Curtius, in a series of small apartments. Together, they created the artistic representation of bacteria living inside the gut found in The Microbial Health Factor. "It causes us to step a little outside our realm," Curtius says. "We're interested in the natural world, [but] we don't paint bacteria everyday."
Interested in reading more?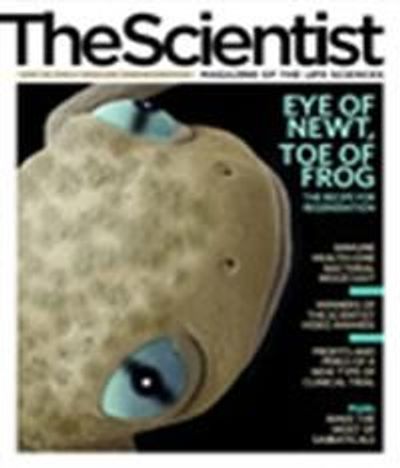 Become a Member of
Receive full access to digital editions of The Scientist, as well as TS Digest, feature stories, more than 35 years of archives, and much more!