Contributors
GlaxoSmithKline's chief strategist of research and development Yvonne Greenstreet decided to become a doctor at age seven, after watching a physician make the rounds in her native Ghana. She moved to the "cold, somewhat drearier stiff upper lip environment" of England for boarding school and completed a residency in obstetrics and gynecology, but soon became frustrated with the UK health care system. After earning an MBA in France, she moved to Glaxo in 1992. In "Change Broker", she explains how the pharmaceutical giant is shaking up its R&D structure. Rather than focusing on "small incremental improvements," the company is seeking "wholesale change" in both the science and business of drug development, she says.
Ellen Raphael is the director of the UK-based Sense about Science campaign, which educates the public about evidence-based science. After earning an MA in social research from the University of Kent in England, Raphael...
Waterloo, Ontario-based freelance writer Graeme Stemp-Morlock was drawn to the humorous side of evolution education after seeing biologist Colin Purrington speak about his "Darwin has a posse" campaign in 2005. In "Darwin, ha ha", he describes some tactics scientists like Purrington are using to add whimsy to the public discourse. Stemp-Morlock earned a bachelor's degree in science in 2005, and after doing a stint of general reporting at small local newspapers, decided he liked science journalism much better than "writing about old ladies at tea," he says. He has freelanced for National Geographic News, Popular Science, Innovation Canada, and other publications.
Ever since his parents bought him his first microscope at age 10, Hawaii-based photographer Dennis Kunkel has seen nature through a scientific lens. He went to graduate school in biology at the University of Washington and developed his electron microscopy techniques in the process. While pursing neurobiology research in the 1980s he began showing his photos of crystals, insects, and bacteria at art galleries. In 2000—after 28 years as a researcher—he decided to start his own business selling stock electron micrographs of biological molecules and organisms. "It was always in the back of my mind, how wonderful it would be to show this to the public," he says. His pictures have appeared in textbooks and magazines such as National Geographic and Science, as well as in movies and television shows like 11th Hour.
Interested in reading more?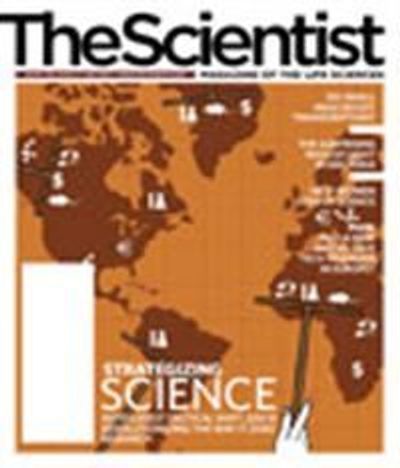 Become a Member of
Receive full access to digital editions of The Scientist, as well as TS Digest, feature stories, more than 35 years of archives, and much more!