Ira Mellman is chair of the Yale School of Medicine's department of Cellular Biology and an affiliate investigator at the Ludwig Institute for Cancer Research. He says that while "the idea that one can manipulate a patient's immune system to help combat cancer" is promising - the subject of his piece on page 47 - "it's simply that we don't know enough," he says. As a "lab guy," Mellman lobbies in Washington, DC, to bring industry, academia, bench research, and clinical research together. "Your work isn't really over until you've tested if your ideas are correct," he says.
West coast correspondent Melissa Lee Philips began moonlighting as a freelancer for The Scientist in July 2004 while working in a neurobiology lab; she switched to science writing full time a year later. She has also written for New Scientist, ScienceNOW, and BBC News, among other publications. In writing...
Stephen Little is CEO and co-founder of DxS Ltd, a UK biotech company that provides pharmacogenomic services to the healthcare industry. Originally trained in microbial genetics, Little switched to human genetic analysis 16 years ago. While he is excited in particular by the company's new test to detect low-level tumor mutations, he argues on page 75 that such treatments will never get anywhere unless there's a good business case, and details the seven issues scientists must face hen designing such therapies.
Art director Marlene Viola joined The Scientist in 1998 as a production assistant. She now leads a production team of three. Viola graduated from the Art Institute of Philadelphia and is an active member of several organizations including the American Institute of Graphic Arts and the Graphics Arts Guild. There's no bigger thrill for an art director than a dramatic redesign like the one you hold in your hands, says Viola: "We have much more real estate for larger imagery, with greater impact, and brilliant typography, among other gems. Stay tuned."
It's been a dream of scientists for centuries to create artificial life, and the most recent efforts are chronicled by Jack Lucentini on page 30. The New York-based writer has also written for Discover, The Washington Post, Sky and Telescope, and Newsday. "I came across a paper by a prominent researcher in the origins of life who said that scientists have achieved most of the steps necessary towards building an artificial organism," he says. Lucentini says he was surprised by "how far along we are" in getting to that point.
Interested in reading more?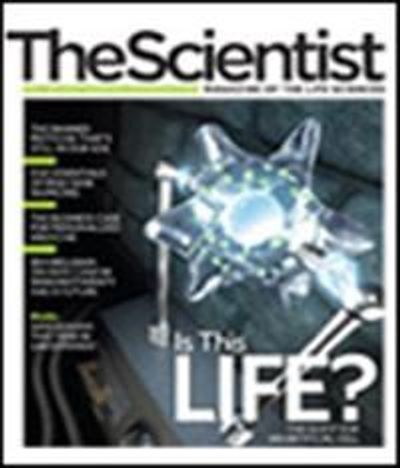 Become a Member of
Receive full access to digital editions of The Scientist, as well as TS Digest, feature stories, more than 35 years of archives, and much more!