Dairy economics: Milking blood from a stone
A TIGHT SQUEEZE: Dairy farmer Steve Harrison checks on one of his cows during a December milking
Steve Harrison grew up on a dairy farm outside of Knoxville, Tenn., that his grandfather started in the 1920s. Harrison, who took over the family farm, is standing in its milking parlor one day in early December. Around him, sophisticated equipment whirrs and clicks as it extracts milk from the 150 to 175 of Harrison's cows who will amble in this hour.
"The goal is to get the...
All those workers, protocols, and monitoring cost money. So, of course, does feeding: Lactating cows eat about 4% of their body weight in dry food every day, which means a 1,500-pound cow eats 60 pounds, at 5 - 8 cents per pound. Despite increasing expenses, however, farmers are still paid about the same per gallon as they were paid in the 1970s, without accounting for inflation. In September 2006, 100 pounds of milk (about 11.6 gallons) fetched $12.88. That's about $1.11 a gallon. "If you can get $400 per cow per year, you're doing well," says Gary Rogers, a dairy scientist at the University of Tennessee. "In the past 12 months, most people lost money," he said in December of the dairy farmers he works with around Tennessee.
"It's terrible," says Harrison. "The consumer likes to see a family farm, with a white house. But you can't make a living doing that. There are still some family farms, but there's been a lot of consolidation for efficiency." There's a limit, however: When dairy farms grow to more than 700 cows, the Environmental Protection Agency classifies them as "concentrated animal feeding operations," and requires more strict - and more expensive - waste management controls.
The economic picture has shrunk the national US dairy herd, which was 17.5 million in 1960. Today, Harrison's herd comprises about 700 cows among the 80,000 or so in the state of Tennessee, and 9 million in the United States. Per capita milk consumption, however, has remained the same, which means that farmers must squeeze more out of their cows, which are now producing on average three times the milk their forebears did in the 1950s and 1960s.
That difference is due to selective breeding, improved technology, and partly to Monsanto's recombinant bovine somatotropin (rBST). Steve Cornett, a farmer near Harrison with about 200 cows, worked part-time for Monsanto years ago, selling rBST to other farmers. He's done with the hormone now. When he stopped giving rBST to his cows, he saw a drop of 20-30 pounds per day - about 25% - in production per cow. "The consumer doesn't want it. It's a black mark on us." Still, he says, "if it weren't for consumers not wanting it, I'd still be using it." Rogers says that about 30% of herds still use it, which accounts for about 20%-25% of cows.
Economics have also forced some farmers to look into niche markets, such as organic milk. Harrison's brother John, of Sweetwater Valley Farm, uses about 10%-15% of his milk to make cheese. One way dairy farmers can make some of their investment back is by composting a mixture of sawdust and cow manure and selling it to crop farmers. Rogers points out a chain slowly dragging a metal bar across a barn floor covered with manure. Steam rises from the muck as the sawdust and manure mix. The cows standing in it pay no attention.
The family business is changing, to say the least. One of Steve Harrison's three children is majoring in agriculture at Virginia Tech, but he doesn't know if any will take over the family farm. "It'd be easier on me if they decided no."
Interested in reading more?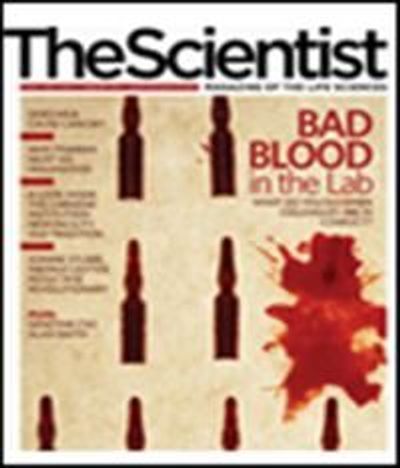 Become a Member of
Receive full access to digital editions of The Scientist, as well as TS Digest, feature stories, more than 35 years of archives, and much more!