Darwin, ha ha
The evolution of every living organism on the planet—with all its social, religious, and scientific ramifications—might not seem like a laughing matter. But to many scientists, it is.
One scientist who has given evolution something to sing about is Richard Milner. The author of "Darwin's Universe: Evolution A to Z" and former editor of Natural History magazine at the American Museum of Natural History is also the creator of the one-man opera "Charles Darwin: Live & In Concert."
Over the past decade, Milner has sung about Darwin's discoveries, the Scopes Monkey trial, and even Stephen Jay Gould to audiences around the world. With the onset of the Year of Darwin (marked by his 200th birthday last February and the 150th anniversary of On the Origin of Species in November), Milner is busier...
With musicals, stickers, and comic books, who needs textbooks?
Similarly, for the past five years, Colin Purrington, an associate professor of biology at Swarthmore College, Pa., has been using humor to teach evolution to non-science students.
In 2004, a Cobb County, Ga., evolution court case resulted in stickers placed in textbooks warning: "This textbook contains material on evolution. Evolution is a theory, not a fact, regarding the origin of living things. This material should be approached with an open mind, studied carefully, and critically considered." So Purrington decided to print mock textbook disclaimer stickers of his own. One of his favorite reads, "This book claims that evolution is not fully accepted by scientists because it is just a theory. The author hopes to confuse you into equating scientific theory with cockamamie theory."
After his Web site, with its mock textbook disclaimers, received over 3 million hits, he launched a sticker campaign called "Darwin has a Posse." The campaign was modeled after the "Andre the Giant has a Posse" design by Shepard Fairey, who also drew the "Hope" poster of Barack Obama used in 2008's presidential elections. Five years into the project, he's printed out a couple thousand stickers to send all over the country. To honor the 200th birthday of Darwin, Purrington has been working feverishly to produce "Tree of Life" tattoos and even giant cardboard cut-outs of Darwin that people can pose beside.
Another scientist who says evolution can be fun is Jay Hosler, an associate professor of biology at Juniata College in Huntington, Pa., who is also the cartoonist behind a Darwin comic book called The Sandwalk. As a self-professed "doodler," Hosler found a niche drawing biology-inspired comics for his campus newspaper during graduate studies. Upon reading On the Origin of Species, "the book immediately moved me in its simplicity and clarity, so I read a biography of Darwin and was doubly inspired by his life."
Hosler decided to write Sandwalk as an effort "to protect the image of the man and as a way of conveying to the world what a human individual he was." Sandwalk chronicles Darwin's daily stroll along his "thinking path," during which he starts to hear voices. He discovers that they are coming from follicle mites in his eyebrow, who have built up an entire mythology of creation with him as the creator.
The bulk of the book is a mixture of slapstick humor (there's a debate about why follicle mites don't have anuses), and serious discussions where Darwin tries to dispel the mite mythology and explain his theory of natural selection.
"He's replacing myths with the truth, or at least the truth as best we understand it," said Hosler, "and finding the beauty in nature."
The book is typically used in philosophical and biological discussions in college courses, but you can find a copy at your favorite bookstore or online book retailer. Initially, Hosler worried that his irreverent treatment of such a serious individual was inappropriate; however, his worries were assuaged by a letter from Darwin's great-great-grandson, Randal Keynes. Keynes said that his famous ancestor kept a copy of Mark Twain's "The Jumping Frog of Calaveras County" on his nightstand because he was a fan of that type of humor, and probably would have enjoyed the comic.
Interested in reading more?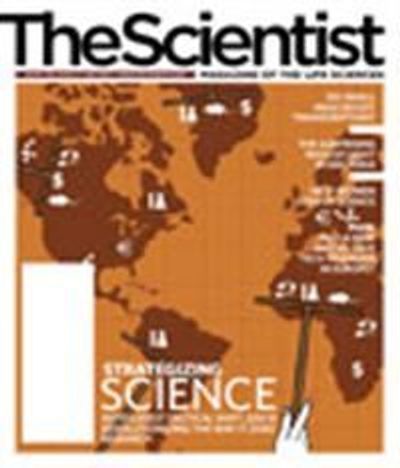 Become a Member of
Receive full access to digital editions of The Scientist, as well as TS Digest, feature stories, more than 35 years of archives, and much more!