Death, delimited
At about noon on March 26th, Steve Bellan was working in his office at Etosha Ecological Institute in northern Namibia when he got word of a fresh zebra carcass near the Gemsbokvlakte water hole, about 20 kilometers east on a dusty park road. Over the next hour, the bushy-haired Berkeley graduate student got his gear in order and hooked up a trailer to the back of his pick-up before rumbling out of the fortified rest camp with his metal carcass cage, a pipe and mesh box designed to keep scavenging jackals away. His mission: "A randomized control trial, but with carcasses as the participants," he says, which will hopefully yield clues about how to combat a bacterium that kills hundreds of cattle and wildlife each year in the United States and thousands more in developing countries.
Etosha National...
By contrast, when outbreaks of anthrax occur at Kruger National Park in South Africa and Chobe National Park in Botswana every 5 or 10 years, they devastate sensitive mammal populations. During an outbreak that killed some 1500 animals in Malalangwe National Park in Zimbabwe in 2004, rangers were dispatched to burn their corpses and prevent scavengers from spreading the infection. It wasn't easy—they spent 7 days stoking a fire to incinerate one hippo.
But no one really knows whether burning corpses or covering them up actually makes any sense. "Everyone has their own pet theory, but so little of it has actually been tested," explains veterinarian Carrie Cizauskas, who works with Bellan on Etosha anthrax under a 5-year grant that their advisor, Wayne Getz, received last year from the NIH's Ecology and Evolution of Infectious Diseases program.
During a visit to the park in April, the anthrax outbreak was in full flush and Bellan had tallied about 60 victims in the first few months of the season. The mischievous jackals were hard to miss: frolicking on road sides, lazing in the sun, weaving their way through camp sites, and even invading an elephant's personal space at a nearby water hole.
Unlike "weaponized" anthrax, naturally occurring anthrax does not easily become airborne and requires a significant dose to trigger an infection. (No humans have caught anthrax in Etosha.) The bacterium is not passed from a living animal to another animal, but must take residence in the soil in the form of a spore that can last as long as a century. These spores are either inhaled or ingested by ungulates, killing them within days, or sometimes hours. When Bellan examines blood smears under a microscope, the dying red blood cells are outnumbered by thousands of Bacillus rods. During the four days after death, the bacterium has the ability to produce the deadly spores, which are clumped onto dirt and organic matter and can separate and lodge in the soil if the area is disturbed, say, by an animal rolling around in the dirt.
The efficacy of this process depends on some environmental signal, such as oxygen or nutrient levels. The purpose of Bellan's carcass cage is to keep these scavengers away from the rotting corpse during the crucial 4-day period to understand whether they help or hurt sporulation (by consuming the latent anthrax), and to measure the persistence of anthrax in the soil over a period of months. If he finds that scavengers facilitate the spread of spores, that would suggest that burning corpses is a good idea. Or it may indicate that during an outbreak your only hope is to vaccinate the most threatened mammal populations.
All Bellan's found so far, he says, are mountains of maggots. When he got back to that zebra carcass 4 days later, there was a foot-high pile of the squirming fly larvae, more than he'd ever seen. He removed the cage and sat back in his vehicle as 4 hyena and 16 jackal swooped in.
Interested in reading more?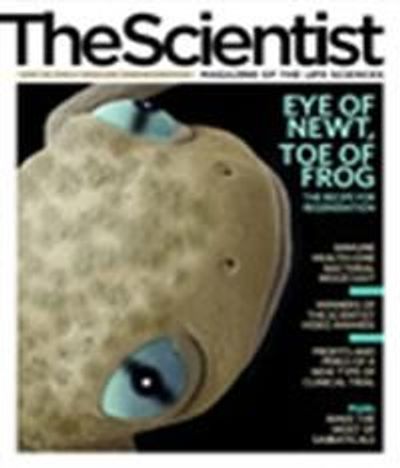 Become a Member of
Receive full access to digital editions of The Scientist, as well as TS Digest, feature stories, more than 35 years of archives, and much more!