Egils Milbergs
Shaping federal science and technology policy from three time zones away
Though economist Egils Milbergs began his career inside the Beltway, he has worked on issues from the national to the local level, and now finds himself about as far away from Washington, DC, as a person passionate about national policy can get - in a place he calls "the other Washington."
Chris Gregoire, the Governor of Washington, appointed Milbergs to direct the state's newly formed Economic Development Commission back in January, and the economist is using all the knowledge he gained working on science policy at DC-area think tanks, lobby groups, and in federal agencies to craft an ambitious plan. "I'm taking a deep dive into one state," says Milbergs.
His plan is to craft an economic development plan for Washington State that incorporates all sectors, not just science, from high technology to traditional agriculture. Milbergs says that the commission is conducting a "regional experiment": Foster an understanding and appreciation for science and innovation in Washington State, and use the state as a model for federal policy makers. "I'm convinced that whatever comes out will be applicable on a federal level," he says. The commission is currently in its "organizational phase," Milbergs says, taking stock of Washington's innovation, talent, and infrastructure resources and identifying areas where development is needed, and it hopes to publish its first report in early 2009.
"We're all curious to see what he'll be able to do [in Washington state]," says Kent Hughes, director of the globalization and innovation program at the Woodrow Wilson International Center for Scholars, and a Reagan-era colleague of Milbergs'. "He's going to be someone who's consulted in the future."
"Egils is an individual who has created a taxonomy and a working nomenclature for innovation." -Bob Boege
After attending Harvard College, where he focused on public policy and economics, Milbergs worked at the federal Bureau of Budget, now called the Office of Management and Budget. There, Milbergs got his introduction to parsing out the intricacies of a national budget that funded dozens of federal R&D agencies, including the National Institutes of Health and the National Science Foundation. "My interest in this stuff started here," Milbergs says. "I learned the numbers."
Then he moved into the nonprofit sector, taking a position the Stanford Research Institute International, a think tank where he continued to focus on federal R&D policy. In 1980, Milbergs returned to government, becoming Malcolm Baldridge's Deputy Assistant Secretary for Productivity, Technology and Innovation at the Commerce Department, where he worked on increasing the intellectual property rights of federal research and development laboratories, among other issues. While at Commerce, Milbergs headed Ronald Reagan's President's Commission on Industrial Competitiveness, which produced a seminal report entitled "Global Competition: The New Reality," that laid out a plan to keep the country at the forefront of technology at a time when globalization was in its infancy. He also helped developed guidelines and procedures necessary to implement the newly-passed Bayh-Dole Act, landmark legislation that established a framework for technology transfer between academia and industry. "I felt, at that point, I had made my contribution to public policy," Milbergs remembers.
Gregory Tassey, senior economist at the National Institute of Standards and Technology, says Milbergs envisions a research and technology-based economy functioning like an ecosystem, with multiple parts and players, such as basic research at universities, translational research in the private sector, and commercialization, all interacting to impact economic development. Tassey says that Milbergs' way of thinking is pushing a "new paradigm" that sees scientific research as a cornerstone of progress.
Bob Boege, executive director of the Alliance for Science and Technology Research in America and Milbergs' former collaborator, says that Milbergs' focus on innovation as a key economic driver is sorely needed. "We do not have a national innovation policy," Boege says. "It's insane. Egils is an individual who has created a taxonomy and a working nomenclature for innovation."
Interested in reading more?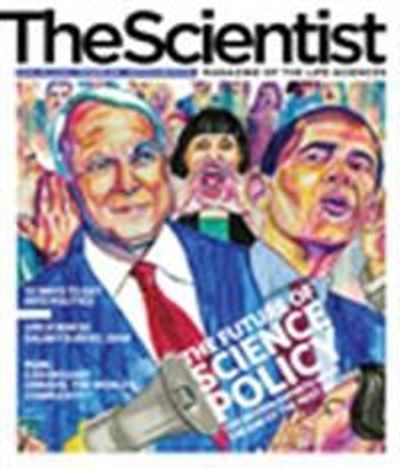 Become a Member of
Receive full access to digital editions of The Scientist, as well as TS Digest, feature stories, more than 35 years of archives, and much more!