Friending Pharma
With academic/pharma partnerships on the rise, how do academic scientists make the most of the deal? Here are tips from three kinds of collaborations with industry.
As pharma's pipeline dries out, companies are increasingly reaching out to university researchers—and not just for out-of-the-box licensing deals. Over the past three years, Washington University in St. Louis has seen the numbers of collaborations rise from 46 to 72, while GlaxoSmithKline and Merck have reported plans to acquire as much as 50% and 25%, respectively, of their early drug candidates from outside collaborations. Academics are seeking creative ways to fund their research as competition for federal dollars heats up. But how do you maximize the promise of these cross-cultural collaborations while avoiding the pitfalls? Here are tips from three scientists who've been there.
The Small Deal
Carol Sibley at the University of Washington and Jacobus...
In 1993, Carol Sibley, a malaria researcher at the University of Washington, was on the hunt for compounds that might knock out resistant strains of the malaria parasite. Her group had developed a hybrid yeast that expressed malarial enzymes that could quickly identify promising drug candidates. She'd swap out key metabolic enzymes from yeast with ones from drug-resistant malaria. Compounds that halted the altered yeast's growth made the initial cut as potential therapeutics.
Without Jacobus as a partner, Sibley would not have been eligible for an SBIR grant.
At the time, "I wasn't really looking for a company connection," Sibley says. But her colleagues tipped her off to Jacobus Pharmaceuticals, in Princeton, NJ. The tiny 35-employee company held a patent on a molecule of interest to Sibley called WR99210, says David Jacobus, the founder of the company. Like the older antimalarial pyrimethamine, WR99210 blocked folate synthesis—an essential part of the plasmodium parasite's metabolism. "We got to talking about why I wanted it and such, and he got very enthusiastic," offering her a chance to look at related compounds that they had developed, says Sibley.
Pretty soon, Sibley was working in partnership with Jacobus to identify a family of likely antimalarials. When her hybrid yeast flagged potential drug targets, Jacobus did follow-up with pharmacology, toxicology, and other preclinical testing. Though the original molecule didn't make it past early screening, one of the drugs Jacobus developed was patented and is entering Phase I clinical trials. For both of them, the experience couldn't have been better. Jacobus owns the patents, while Sibley "publishes like crazy. Seems like a nice way to go," Jacobus says.
Stay small to sidestep bureaucracy
Because of Jacobus's small size, the collaboration unfolded in a "completely informal way," says Sibley. As a committee member for the Medicines for Malaria Venture, Sibley could appreciate how her experience differed from agreements with pharmaceutical companies. She made initial contact without her tech transfer office, and some of the financial support provided by the company was equally light on paperwork. From time to time Jacobus would just write a personal check, for an undisclosed amount, that Sibley used in her research. "That would be unheard of in a big company," she says. For his part, Jacobus got an effective, rapid method for screening drug candidates that would have been difficult to reproduce from scratch.
Cash in on your collaboration
Federal research grants like the Small Business Innovation Research (SBIR) grant helped them get their work off the ground. Without Jacobus as a partner, Sibley would not have been eligible for the money. They applied for a SBIR grant through the U.S. Small Business Administration Office of Technology in 1999, to do a feasibility study on possible drug candidates. Based on those results, they applied for and won a larger, 2-year Small Business Technology Transfer (STTR) grant through the NIH in 2003.
Look for an intellectual match
It may not be enough to share common goals with a prospective partner. Sibley and Jacobus's collaboration worked because of a shared scientific curiosity. "It was a scientist-to-scientist connection," she says. Before Sibley contacted him, David Jacobus was not actively pursuing potential malarial treatments. But he was intrigued by the power of her assay to quickly identify treatments for drug-resistant malaria. He found it impressive that doctors halfway across the world could "take a drop of blood from a patient, put it on a postcard," and mail it to Sibley to develop into a new drug screening yeast strain by amplifying the drug-resistant malaria parasite's genes and incorporating them in her yeast model.
A Mid-sized Deal
Clifford Woolf at Massachussetts General Hospital and Endo Pharmaceuticals
Clifford Woolf, an anesthesiologist at Massachusetts General Hospital and Harvard Medical School in Boston, Mass., and colleagues knew they were on to something big when they discovered a way to dull pain without causing numbness.
Most local anesthetics dull pain by indiscriminately blocking sodium channels on both sensory and motor neurons—creating a feeling of numbness. Woolf and his colleagues injected mouse paws with a combination of capsaicin, the chemical responsible for the burning sensation caused by chili peppers, and a modified version of the anesthetic lidocaine. The capsaicin selectively opened heat-sensitive channels on sensory neurons. With the channels opened, lidocaine entered straight into sensory neurons, blocking pain while bypassing the motor neurons that cause numbness.
Soon Woolf and his collaborator Bruce Bean, a neurobiologist at Harvard Medical School, were looking for a partner to develop clinical applications of their general approach. Since their work wasn't just a promising compound, but rather a delivery method, Woolf and Bean worried that it might slip through the cracks if they signed a traditional licensing agreement and handed off development. They could envision multiple ways to build on their work—using the technique for chronic and acute pain, as well as nonpain applications.
Woolf and Bean went to their tech transfer office seeking potential partners. Harvard routinely spends "a lot of time looking for the right company and the right fit," to make sure new technology won't get put on the backburner, says tech transfer officer Katherine Gordon, who helped coordinate the deal. They proposed a partnership to about half a dozen pharmaceutical companies, including two large companies, a couple of mid-sized firms, and a start-up. In January of this year, the team signed an agreement with the mid-sized company Endo Pharmaceuticals, giving the company the legal right to develop the technology.
Fight for control—but only sometimes
Woolf had worked with companies in the past, where he simply signed promising compounds over and let them handle the late-stage development. Traditional licensing agreements usually leave researchers out of the development process, he says. If the "development process is quite clear and obvious, then that certainly makes sense," he says. But for this project, "We didn't want to totally lose control," Woolf says. Though negotiations took almost a year, the deliberations paid off. In the final deal, Endo agreed to handle the regulatory hurdles, commercialization, drug formulation, and medicinal chemistry. But Woolf and his colleagues will be "actively involved in the development process, and will assist in making decisions about how the development will occur." The end result was a tailor-made partnership that gives the two greater control over "their baby."
Be sure to shop around
Don't just go with the first offer. Often, companies will spontaneously contact a researcher doing novel work with obvious clinical applications, because most companies keep an eye on the literature in fields they're interested in, says Arundeep Pradhan, the president of the Association for University Technology Managers. But other companies may match a researcher's vision better. Shopping around the idea helped Woolf find the perfect fit. Though big pharma was an obvious first stop, "frankly they were not that interested" in letting the researchers retain some control, Woolf says. In contrast, Endo "saw value" in the team's participation, he says.
Betting Big
Paul Allen at Washington University and Pfizer
For years, Washington University immunologist Paul Allen had received funding through a 1992-era collaboration between Monsanto's pharmaceutical development arm (now owned by Pfizer) and Washington University in St. Louis, Missouri. Every so often, Allen would write a grant proposal based on his scientific interests, occasionally Pfizer would hand over about $70,000, and that would be the end of it, he says.
In 2006, Pfizer and Wash U began ironing out a new agreement. The program's goal was better collaboration on immune and inflammatory disease, says Jeff Gordon, a genome scientist at Washington University who helped design the agreement. In 2008, Pfizer started handing out a total of $25 million in grants to Wash U/Pfizer teams to be disbursed over a period of 5 years. A committee of five Pfizer scientists and five university scientists read white papers—two- to three-page briefs of a general research topic—submitted by Wash U professors. The committee then played matchmaker, pairing them up with like-minded Pfizer groups, who together crafted a proposal for one of Pfizer's grants, Gordon says.
As part of a pilot program, Allen submitted a brief proposal to develop and study a model of neutrophil activity in acute arthritis in 2006, and was matched with Phil Morton at Pfizer, who studies macrophage and inflammation biology.
The first meeting with Phil Morton's team was an eye-opener, Allen says. "Within 15 minutes," Allen realized the Pfizer group didn't want to study neutrophils because of their potential to cause unwanted side effects. Instead, Morton's group suggested studying the more clinically relevant macrophages, which were important in the more common chronic form of arthritis. As it turned out, Allen's group had a greater expertise in macrophages, and the team devised a research plan to understand their role in the onset of inflammation.
Woolf and Bean worried that their technology might slip through the cracks if they signed a traditional licensing agreement and handed off development.
Their proposal won Pfizer's support and the team recently drafted two papers for publication. As part of the agreement, Allen's group is required to give Pfizer 30 days to decide whether it wants to patent or protect content in the article, but the Pfizer team gave them the go-ahead to publish very quickly. "It wasn't onerous at all," but then, the study didn't include any compounds or patentable material, Allen says.
Double up on contacts to keep continuity
One challenge for Allen is that working with Pfizer has often meant dealing with higher turnover in their team. University researchers tend to stay put, so the same players stay involved for years, Allen says. But at Pfizer, "your contact person might leave the company or get moved or change projects or something, so then a new person comes on and you have to bring them up to speed," he says. One way to offset this flux is to make sure to have contact with more than one Pfizer person on a given subject, says Allen. That way, there's a "corporate memory," even if the individual you're working with leaves, which means you can still make progress and maintain momentum.
Divvy up duties to capitalize on expertise
For Allen, the collaboration with Pfizer was a chance to divvy up tasks according to skill set. Pfizer had extensive expertise in pharmacology, toxicology, and other mainstays of drug development. But Pfizer also had expertise at transcriptional profiling, something Allen had done in-house at Wash U. "They're phenomenal at that. They're really pushing the edge of how few cells you need to be able to get information," Allen says. Turns out, Pfizer had an entire team of people who do gene chip assays all day long. By handing off that aspect of work, Allen's group can make more progress on understanding the basic inflammation processes.
Interested in reading more?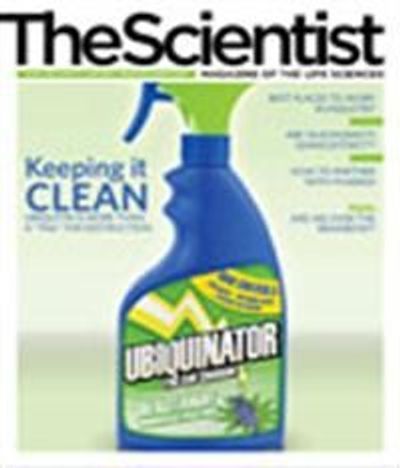 Become a Member of
Receive full access to digital editions of The Scientist, as well as TS Digest, feature stories, more than 35 years of archives, and much more!