1. Characterization of the present situation
I) One aspect of globalization is the emergence of one single global lingua franca of science, English. It has advantages for all scientists as well as for mankind as a whole in that it enhances international scientific cooperation and thus accelerates scientific progress.

II) The preference for the global lingua franca is stronger in the pure or theoretical sciences than in the applied sciences or especially the humanities.

III) Scientists are forced to use the global lingua franca if they want to follow new scientific developments or make their own contributions known internationally.

IV) The global lingua franca of science (and also of other fields) is the native tongue of a minority, the Anglophones, and...
2. Language policy suggestions
Any such policy should be guided by the two principles of increasing, first, communicative and cognitive efficiency in science and, second, fairness in burden sharing, especially among members of different linguistic affiliation. Increasing fairness appears more urgent from the non-Anglophones' perspective, but efficiency should at least be maintained at the same time (cf. Gazzola & Grin's in print; van Parijs in print).

1) An important move would be an awareness campaign, i.e. publicizing the problem as widely as possible (an example is La Madeleine's article in Nature, 2007). Such a campaign could resemble those against gender discrimination through language and language use, although the issue is different in nature and, presumably, more difficult to resolve. Competent agents to kick off such a campaign would be scientific organizations like the AAAS. They could establish permanent committees for planning and carrying out the campaign as well as for collecting and conceiving proposals of practicable improvements. Among the potential improvements, the following should be considered, some of which have, on occasion, been put in practice.

2) Anglophone speakers should be sensitized to the possibility that non-Anglophone participants might have difficulty following their oral presentation. They should be encouraged to try a slower pace, to be careful with pronunciation as in "foreigner talk" and to rephrase complex passages.

3) At conferences, language services for participants who are unable to make their contribution in English should be expanded. For participants with severe difficulties in reading or pronunciation substitute presenters might be a solution (proposal by Benfield & Howard 2000: 647). For participants with insufficient writing skills more editing services should be made available. Depending on subjects and location it should also be possible to present papers in a specified number of other major languages, and to have them translated or interpreted. Financing would of course pose a challenge to organizers but could perhaps be achieved by a combination of (slightly) increased conference fees and extra contributions by those benefiting most from the services and from the linguistically privileged Anglophones.

4) For publications, more editorial support is an urgent desideratum. Presently, few publishers provide such support but rather name suppliers whose editing services are "at the authors own expense and risk" (to quote Blackwell Publishing: www.blackwellpublishing.com/bauthor/english_language.asp; 9 January, 2008). Editorial support can require intensive interaction between the author and the aid or translator (cf. Burrough-Boenisch 2006; Flowerdew in print). It has been recommended to find "a bilingual editor who is both familiar with the discipline and the journal" (Hartley et al 2007: 10). Others have recommended two aids: a language professional and a peer, in this order (Benfield & Feak 2006: 1). Such support can be hard to find and expensive, especially peers who are most important for scientific accurateness including terminology. Providing such services is a huge challenge for publishers but one that needs to be seriously tackled.

5) Training in writing scientific texts in English should be given more weight as part of studies, especially at the graduate level (cf. Murray & Dingwall 1997; Swales & Feak 2000).

6) Different from such "pragmatic" or immediately practical proposals are those of a "critical pragmatic approach" (label by Flowerdew in print: 22 f.). Some of them may appear utopian but should, nevertheless, be examined as to their feasibility. One which appears simple, at first sight, is the request for more language norm tolerance vis-à-vis non-native speakers or, as I have phrased it, "the non-native speakers' right to linguistic peculiarities" (Ammon 2003). It is not readily compatible with the prevalent view that, in science, authors should "express themselves fully" (Benfield & Feak 2006: 1730), if this implies finding not only exact but also fully idiomatic expressions. Reasonable as it sounds, it could mean eternal dependency of the non-natives on the native speakers of English. The big question is if there is a feasible alternative, since it seems close to impossible to delimit norm-tolerance from the useless "everything goes" which would preclude communication (Burrough-Boenisch 2006). A list of examples where tolerance seems reasonable might be helpful (use of definite article, Adverb-Verb word order, metaphors etc.). Knowledge about the language burden of non-natives could also go a long way towards reasonable tolerance.

7) A more utopian view follows from studies of "English as a lingua franca (ELF)" (e.g. Knapp & Meierkord 2002) and "International English (IE)" (e.g. Seidlhofer 2003), with proposals like "Globish" (Nerriére 2004) or - different from the former - "Globalish" (Ammon 2003: 33 f.; 2006: 25 f.) perhaps trespassing into Utopia. ELF and IE explore the reality of non-native English and how it functions for communication and thus provide a basis for (6) norm tolerance. Globish and Globalish aim at new languages, structurally related to English but conceptually different in that they follow their own, autonomous norms; therefore the new name. "Globish" is a simplified language with a limited vocabulary (1,500 words), thus resembling previous proposals (e.g. BASIC), while "Globalish" is not meant to be simpler than English, but a fully developed multi-centric language (cf. Clyne 1992). Its regional or national varieties - French, Japanese, British etc. Globalish - should all be accepted as equally correct. They would be codified by regional or national planning institutes which would cooperate globally in keeping the varieties from drifting apart, a task in which they would be supported by intensifying global communication. The idea is remotely related to Esperanto, but seems more realistic, since it would not invalidate the huge investments which have been made world-wide into the acquisition of English, but instead use them. Though the idea may seem irrelevant for international scientific communication at present, its consideration could at least put problems into perspective.

References
1. Ammon, Ulrich (1998) Ist Deutsch noch internationale Wissenschaftssprache? Englisch auch für die Lehre an den deutschsprachigen Hochschulen. Berlin & New York: Walter de Gruyter.
2. Ammon, Ulrich (ed.) (2001) The Dominance of English as a Language of Science. Effects on Other Languages and Language Communities. Berlin & New York: Mouton de Gruyter.
3. Ammon, Ulrich (2003) Global English and the non-native speaker: Overcoming disadvantage. In Tonkin, H. & T. Reagan (eds.) Language in the 21st Century. Amsterdam: Benjamins, 23-34.
4. Ammon, Ulrich (2006) Language Planning for International Scientific Communication: An Overview of Questions and Potential Solutions. Current Issues in Language Planning, 7 (1): 1-30.
5. Benfield, John R. & Christine B. Feak (2006) How Authors Can Cope With the Burden of English as an International Language. Chest 129 (6): 1728-1730.
6. Benfield, John R. & Kathryn M. Howard (2000) The language of science. European Journal of Cardio-Thoracic Surgery 18: 642-648
7. Burrough-Boenisch, Joy (2006) Negotiable Acceptability: Reflections on the Interactions between Language Professionals in Europe and NSS Scientists Wishing to Publish in English. Current Issues in Language Planning 7 (1): 31-43.
8. Carli, Augusto & Emilia Calaresu (2003) Le lingua della comunicazione scientifica. La producione e la diffusione des sapere specialistico in Italia. In A. Valentini et al. (eds.) Ecologia Linguistica. Rome: Bulzoni, 27-74.
9. Clyne, Michael (ed.) (1992) Pluricentric Languages. Differing Norms in Differing Nations. Berlin & New York: Mouton de Gruyter.
10. Flowerdew, John (in print) The non-Anglophone scholar on the periphery of scholarly publication. AILA Review 20: 14-27.
11. Gazzola, Michele & François Grin (in print) Assessing efficiency and fairness in multilingual communication: Towards a general analytical framework. AILA Review 20: 87-105.
12. Durand, Charles (2001) La mise en place des monopoles du savoir. Paris: L'Harmattan.
13. Graddol, David (2006) English Next. Why global English may mean the end of 'English as a Foreign Language'. [London:] British Council.
14. Knapp, Karlfried & Christine Meierkord (eds.) (2002) Lingua Franca Communication. Frankfurt etc.: Lang.
15. La Madeleine, Bonnie Lee (2007) Lost in translation. English is the language of science. So to what extent are researchers who are non-native English speakers at a disadvantage? Nature 445: 454 f.
16. Langdon-Neuner, Elise (2007) Let them write english [sic!]. Revista do Colégio Brasileiro de Cirurgiões 34 (4): 1-7.
17. Murray, Heather & Silvia Dingwall (1997) English for scientific communication at Swiss universities: 'God helps those who help themselves'. Babylonia 4: 54-59.
18. Nerriére, Jean P. (2004) Parlez Globish. Paris: Eyrolles.
19. Seidlhofer, Barbara (2003) A Concept of International English and Related Issues: From 'Real English' to 'Realistic English'. Strasbourg: Council of Europe.
20. Swales, John M. & Christine B. Feak (2000) English in Today's Research World: A Guide for Writers. Ann Arbor MI: University of Michigan Press.
21. Van Parijs, Philippe (2002) Linguistic Justice. Politics, Philosophy & Economics 1 (1) : 59-74.
22. Van Parijs, Philippe (in print) Tackling the Anglophones' free ride. Fair linguistic cooperation with a global lingua franca. AILA Review 20: 72-86.
Interested in reading more?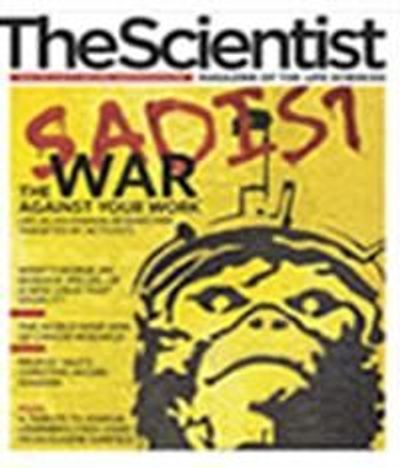 Become a Member of
Receive full access to digital editions of The Scientist, as well as TS Digest, feature stories, more than 35 years of archives, and much more!