Is Murray hypoallergenic?
It was pouring rain the night that Eve Yohalem went to pick up her $6,000 kitten at the airport. She and her husband had been told to wait at John F. Kennedy Airport in New York City, where the cat would be arriving on a cross-country flight from Los Angeles. Finally, late that Friday night in October 2007, a cat carrier came into sight. Inside was the tiniest striped kitten Yohalem had ever seen, which bore little resemblance to the photo she had received months earlier.
Yohalem was one of the first customers ever to receive an as-promised hypoallergenic animal from Allerca, a company that today sells allergy-proof cats and dogs for $7,000 and $9,000, respectively.
Allerca claims it has found cats that carry a natural mutation in the gene encoding the major cat allergen—the glycoprotein Fel d 1, which...
His owner—who paid $6000 for him—doesn't think so.
In the summer of 2007, after a year of waiting for the cat, calling frequently to check in, Allerca's founder Simon Brodie answered the phone and told Nick that their cat was ready. Soon thereafter Yohalem received a picture of her kitten, which was solid grey with a tiny white bib on its chest. Even though Murray had completely different markings than the cat in the photo, "we were ecstatic" when he arrived, says Yohalem, a children's book author. "He was this teeny, tiny, adorable kitten."
Then, Nick began to sniffle and sneeze. They vacuumed frequently, isolated the litter box, and kept air purifiers constantly pumping away (all of which they have continued). Nick's mild reaction eventually tapered off, but allergic visitors still react to Murray. "They can't tolerate him," says Yohalem. "We've had a couple people not be able to stay." To see if Murray truly was hypoallergenic, she decided to send a fur sample to Indoor Biotechnologies, a Virginia-based biotech that tests cats for levels of Fel d 1.
Martin Chapman, the founder of Indoor Biotechnologies, says that he can't draw any definite conclusions from Murray's Fel d 1 level, which fell at 48.62 μg per gram of fur. For one, there are no accepted ranges for Fel d 1 in cat fur, he says, so it's impossible to compare Murray's level to a standard amount. (The company also tests Fel d 1 in saliva, which says more about how allergenic an animal is, but unfortunately Murray would not cooperate enough for Yohalem to obtain a sample.) Allerca has not explained how Fel d 1 is modified, so it's also unclear whether the test is detecting modified Fel d 1 that would not affect allergic people. But given the fact that allergic guests cannot tolerate Murray, "we would not say that the cat is hypoallergenic," Chapman concludes.
Brodie admits that Murray might have the gene for the normal rather than the modified Fel d 1, but declines to provide any information about the nature of the genetic change in the gene, considering it a trade secret. "It's possible, and from what I'm hearing, probable" that Murray does not carry the mutated form of Fel d 1, Brodie says. The cost of testing every kitten to make sure it carries the modified form of Fel d 1 outweighs the "rare possibility" that the mutation isn't present, he says. Still, Fel d 1 is not the only allergen cats produce, so Allerca is careful to warn every potential customer that they may still react to their animal, even with the modified form of the gene. (The company guarantees that it will refund customers' money if they must return the cat, and around 5% of the 400 Allerca cats have been returned, Brodie says. For more on Allerca, see the January 2007 issue of The Scientist.)
Yohalem doesn't regret buying Murray—"we love our cat," she says. However, to save Nick from his allergies, "for all I know, we could have gotten a cat from the [pound]." Chapman proposed sequencing Murray's Fel d 1 gene or, more simply, measuring levels of unmodified Fel d 1 in the dust around Yohalem's home. Yohalem, however, isn't interested. "I feel confident enough that Murray is not hypoallergenic that I don't need a test to prove it," she says. Brodie, however, is willing to stand behind his company's claims, and to partner with scientists who want to investigate whether the animals are, indeed, hypoallergenic. "We know that this works," he says.
Editor's note (posted June 2): When originally posted, this story misspelled allergenic in one instance as allergic. The Scientist apologizes for the error, which has been corrected.
Interested in reading more?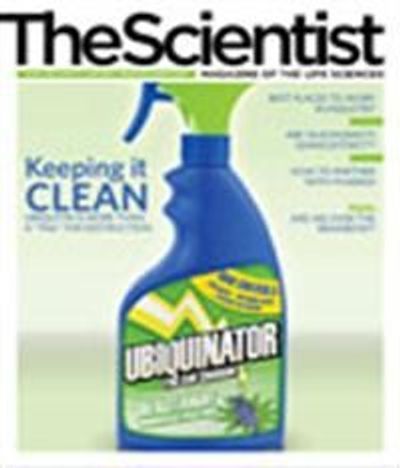 Become a Member of
Receive full access to digital editions of The Scientist, as well as TS Digest, feature stories, more than 35 years of archives, and much more!