John Porter
Advocating science from inside the House
In 1995 when the Republicans took over the US House of Representatives, times were tight for the Appropriations Subcommittee for Labor, Health and Human Services, and Education, which allocates funds to the National Institutes of Health. Under a new budget resolution, the House budget committee told John Porter, then subcommittee chair, he needed to shave 5% from the National Institutes of Health budget each year for the next five years. "I thought it was insane," Porter recalls one June afternoon from behind his imposing mahogany desk at Hogan and Hartson, a law firm in Washington, DC.
He quickly gathered a group of 10 Nobel laureates, CEOs of pharmaceutical companies, and members of the Federation of American Scientists for Biomedical Research to convince Newt Gingrich, Speaker of the House, to stop cutting the NIH budget and instead...
Since the budget committee's guidelines are non-binding, Gingrich gave Porter approval to write a separate small bill boosting NIH funding by 5.7%. The bill was passed with little debate and was on the President's desk and signed even before the larger appropriations bill hit the floor. Porter wouldn't stop there. The following year his committee increased the NIH's funding by 6.9%, and by 7.1% the following year. By 1998, Porter rallied his counterparts in the Senate to double the NIH budget in increments of 15% a year for five years straight.
There was a lot of work involved in doubling the agency's budget, but "he was up to the task," says Mary Woolley, president of Research!America, where Porter is chair of the board of directors. "He never sought out any spotlight or attention for the role he played, and there's absolutely no doubt he's the person who made it happen."
As a partner at Hogan & Hartson, Porter, 73, now spends nearly all his time extolling the benefits of biomedical research and lobbying Congress on behalf of more than 15 universities, research institutions, hospitals, and other nonprofits. He encourages scientists to take an active role in electing Congressional leaders who support funding research, or to get involved in politics themselves. In 2005, when the Bush Administration stripped funding from the National Children's Study - a project intended to track the healthcare data of 100,000 children from conception to adulthood - Porter lobbied to get funding restored to the project and successfully secured $59 million for the program in 2007, $111 million for 2008, and $192 million for 2009.
Porter continues to be influential in persuading people that "the health of the economy can be translated from funding medical research."
-Harold Varmus
In 2003, he lobbied for continued funding of a campaign run by the Centers for Disease Control and Prevention to encourage children to exercise, support for which had been cut from the federal budget. In two years, he secured more than $130 million for the program.
In 2006, Porter represented a coalition of professional societies representing 28,000 physical and biomedical scientists who felt that funding for technologies used in biomedical research (like radiology machines and lab equipment) was insufficient. Porter met with the leaders of the National Science Foundation, the Department of Energy's science department, and NIH, and crafted a proposal called "Bridging the Sciences" which authorized NIH to fund science technology proposals that would be reviewed by panels of physical scientists, rather than biologists alone.
The secret to Porter's success, says Harold Varmus, Nobel Prize winner and former NIH director, is that he knows how Washington, DC, politics work and yet is a "reasonable, bipartisan creature." His views of science are well balanced, Varmus adds, and Porter continues to be influential in persuading people that "the health of the economy can be translated from funding medical research."
Interested in reading more?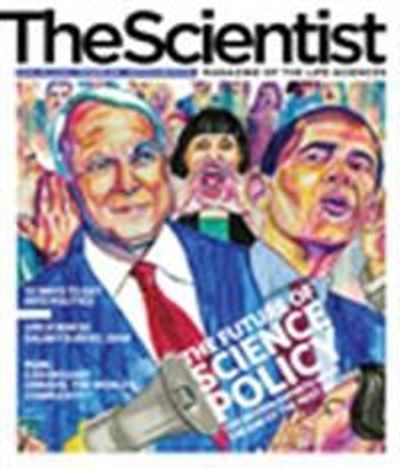 Become a Member of
Receive full access to digital editions of The Scientist, as well as TS Digest, feature stories, more than 35 years of archives, and much more!