Ken Thorpe
An academic who swims in political waters
In 1967, when Ken Thorpe was 11 years old, his father took him to hear Martin Luther King, Jr. speak. They stood in an all-white Detroit suburb and watched King deliver an eloquent speech in a racially-charged environment. "It was remarkable in the sense that he put himself out there in a setting like that knowing that he likely was going to get heckled," Thorpe remembers.
More than 40 years later, Thorpe's colleagues say the Emory University health policy professor has put himself in hot seats of his own - national and state legislatures - to give his research a shot at changing health and science policy. As the cost of health care rises, and the prevalence of costly chronic conditions increases, those who have worked with Thorpe say his grounding in health care...
"Given his reputation, intellect and network, he will be one of those leaders to whom all sides will turn [in the health reform debate]," writes former Senator Tom Daschle (D-SD) in an E-mail. Daschle worked closely with Thorpe to pass health care reform in the mid 1990s.
"It's good that [Thorpe] can continue to work in a university setting and make the connection to Washington," says long-time colleague Tom Ricketts, professor of health policy and administration from the University of North Carolina at Chapel Hill. "He sets the model for engaged scholarship. He's somebody that you'd like to be like."
Thorpe has analyzed the effect of health insurance taxes and studied the economic impact of chronic health conditions such as diabetes and obesity. Trying to advocate for policy changes, Thorpe says, feels like a natural extension of his research, albeit logistically difficult because he splits his time between a home in Atlanta and another in Washington, DC.
Thorpe says that making the right investments in biomedical research at the NIH is key to fighting chronic conditions such as Alzheimer's disease. "We have to find cures to either prevent Alzheimer's or intervene earlier," he says. "Chronic conditions are incredibly costly to treat."
After conducting analyses of President Bill Clinton's proposed health care reforms in the mid-1990s, Thorpe, who also heads the lobbying coalition Partnership to Fight Chronic Disease, researched why the cost of health care has risen so fast. Looking at trends for the 25 most expensive health care conditions, he teased apart the costs due to rising prevalence and those due to increased spending per patient. He found that 20-30% of the spending increase was due to obesity's rise since 1985. About 75% of health care spending was associated with patients who had one or more chronic conditions. Jim Tallon, president of the United Hospital Fund who has worked with Thorpe in both academic and political settings, says Thorpe has been successful in translating "the science of his analysis to political understanding." In the 2000 and 2004 Presidential elections, "he was really the scorekeeper for all of the Democrats' [health care] proposals."
A few years ago, he worked with Vermont lawmakers, providing technical advice for health reforms. Once Thorpe signed on, remembers former Vermont Senator James Leddy, he lowered the temperature of a heated debate between the state's Republican governor and the Democratic legislature by reframing the discussion around health care cost rather than expanding coverage. In 2006, lawmakers passed two bills, aimed at improving care for people with chronic conditions and helping the uninsured get coverage.
In the last few months Thorpe began working with West Virginia's legislature to help the governor and interest groups agree on a comprehensive health care reform plan. "He can handle the hot seat as well as anyone I've worked with," Leddy says.
Interested in reading more?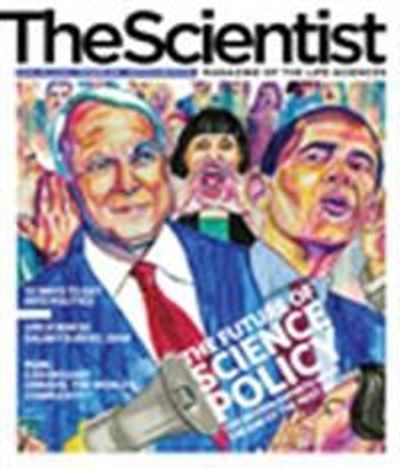 Become a Member of
Receive full access to digital editions of The Scientist, as well as TS Digest, feature stories, more than 35 years of archives, and much more!