Mail
A Theory, Resisted
I would be very skeptical of a claim that there won't be any selection for resistance in the malaria control agents (such as a fungus that kills mosquitoes after they reproduce but before they become infectious) in "Evolution, Resisted."1 If there is any reproductive difference between fungal-susceptible and slightly resistant mosquitoes, there will be selection, even if it is just a little bit. The heavier the challenge, as it would have to be if the fungal spores were used as an insecticide, the faster resistance develops.
And the thought that a single bullet will be sufficient is evidence of lack of field experience. It is so rare that a single procedure will prevail against some noxious organism (vaccination against smallpox is the only one that comes to mind), especially something as complicated and adaptable as a mosquito, that there is no way that a single...
Daniel Miller
Retired veterinary parasitologist, Texas A&M
Monterrey, Mexico
danmiller@hotmail.com
1. E. Dolgin, "Evolution, Resisted," The Scientist, 23(10):44–50, October 2009.
Why Stories Matter
It's so true that the best way to engage the public in science is to tell a good story.1 The science journalists get it and filmmakers get it. The trick is getting the scientists to accept it for all their presentations, whether in front of an academic audience or the general public.
For too long agriculture has been treated as a second-class science.
I developed "Bad Presentation Bingo" to show scientists how to not give bad presentations with data-filled slides inflicting "PowerPointPain." Unfortunately, I think too many of those promoting public outreach by scientists are stuck in the rut that a public talk means "Tell what you're gonna tell them, tell them, and then tell them what you told them."
Monica Metzler
Illinois Science Council
Chicago, Ill.
MMetzler@IllinoisScience.org
Scientists don't view themselves as storytellers because they are still taught that data speak for themselves: Present the results of your research and any rational reader should be able to draw the same conclusion.
The problem with this view is that most readers are unable to grasp immediately the meaning and significance of the data. It isn't because they are daft, but because they don't understand the context surrounding the research.
Storytelling is the most effective way to convey that context to an audience of nonexperts. This is what science journalists are so good at doing; with their sudden departure from news sources, scientists will need to get better at telling stories themselves.
Phil Davis
Cornell University
Ithaca, NY
pmd8@cornell.edu
I've been in journalism for 30 years, a lot of that writing about science and technology. I've been preaching the importance of story almost from day 1. There's no other way to really interest the broader public, because they react to story and not to facts or issues.
If researchers want a bigger and more knowledgeable audience for their research they have to be able to couch it as story, either through telling it directly or through people like me.
The problem is that so very few scientists seem to understand that. They are even suspicious of the approach, thinking it demeans their research. Why is that? How do you get them to understand?
Brian Robinson
Freelance journalist
Portland, Ore.
brian@hullite.com
1. R. Olson, "Tell Me a Story of Science," The Scientist, 23(10):27, October 2009.
Message from Meagerness
Cassava needs a large volume of soil in order to normally develop its storage roots. Thus, growing cassava in pots is an invalid experimental system to test the effects of elevated CO2 projected for the next century and the wrong approach.1 Under this artificial system it is not a surprise that the plants exposed to elevated carbon dioxide are not developing normal storage roots. The extra carbohydrates that result from enhanced photosynthesis under high-CO2 conditions need a strong root sink to receive such materials. In the current studies such sinks (storage roots) are not normally developing due to physical constraints imposed by the small pots where the cassava plants were grown.2
Field research should have been conducted using the free-air CO2 enrichment system (FACE experiments) and/or open top chamber. I hope the author of this research repeats the experiment under field conditions before generalizing any unwarranted conclusion from unworthy experiments.
Mabrouk El-Sharkawy
Centro Internacional de Agricultura Tropical (CIAT)
Cali, Columbia
mabrouk99@hotmail.com
It is well established that leaves and grains are less nutritious when grown at elevated CO2.3 We set out to test whether the tubers of cassava would have less protein and more toxic cyanogens, as observed in the leaves of several other species. The good news was that the tubers were not more cyanogenic, although the leaves were. The big surprise was the decrease in yield. True, there are limitations to pot experiments, but they have their place. Besides, there is no FACE system in Australia suitable for cassava.
To minimize potential problems, we used 40-liter pots and an array of control crops that behaved as expected. A review of long-term data comparing chamber studies with FACE concluded that the results were broadly similar.4 It is important not to extrapolate too far from a single pot experiment, but something strange is happening and warrants further study. We have recently been offered the opportunity to repeat it in a FACE system in 2010, which is an important step.
Ros Gleadow
Monash University
Melbourne, AUSTRALIA
ros.gleadow@sci.monash.edu.au
1. D. Grushkin, "Tiny Tubers," The Scientist, 23(10):17–18, October 2009.
2. R. Thomas, B. Strain, "Root Restriction as a Factor in Photosynthetic Acclimation of Cotton Seedlings Grown in Elevated Carbon Dioxide," Plant Physiol, 96:627–34, 1991.
3. D.R. Taub, "Effects of Elevated CO2 on the Protein Concentration of Food Crops: a Meta-Analysis," Glob Change Biol, 14:565–75, 2007.
4. E.A. Ainsworth, S.P. Long, "What Have We Learned From 15 years of Free-Air CO2 Enrichment (FACE)? A Meta-Analytic Review of the Responses of Photosynthesis, Canopy Properties and Plant Production to Rising CO2," New Phytol, 165:351–71, 2005.
An NIH for agriculture?
Re: "Can USDA's NIFA be Ag's NIH?"1 food security, sustainability, and distribution are essential to the welfare of everyone on this planet. A strong economy, healthcare, and national security are impossible if there isn't enough food and water and a healthy environment. For too long agriculture has been treated as a second-class science. The once great land grant system of research and extension that was the envy of the world has been weakened by shrinking federal support and the winds of political expediency. Our nation and our world need a renewed and reinvigorated program of R&D in the agricultural sciences, and NIFA could be the start of that effort. A stronger, better-funded, competitive grant program presents no threat to land grant institutions—but rather a new opportunity to lead the way.
Robert Killoren
Ohio State University
Columbus, Ohio
killoren.2@osu.edu
1. B. Grant, "Can USDA's NIFA be Ag's NIH?" The Scientist NewsBlog, October 27, 2009, http://www.the-scientist.com/blog/display/56111/
Erratum: The September feature "Where's the Super Food?" included the incorrect title for the book Starved for Science. The Scientist regrets the error.
Interested in reading more?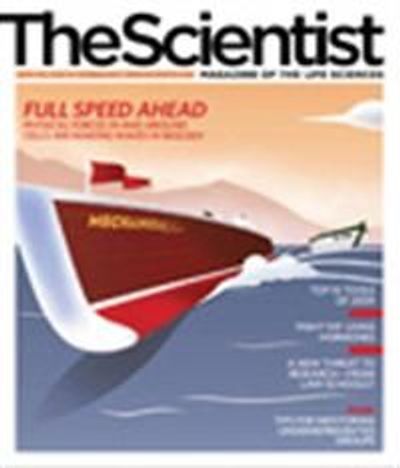 Become a Member of
Receive full access to digital editions of The Scientist, as well as TS Digest, feature stories, more than 35 years of archives, and much more!