Mail
Worst Places to Work?
Re: Best Places to Work: Postdocs,1 maybe it would be good to have an article pointing out the reasons some institutes did not rate highly in the survey. I don't think the institutions should be named but being able to compare the good with the bad would be a good tool for students and postdocs, to get an idea of what to watch out for when applying for jobs.
Claire Seymour
Katholieke Universiteit Leuven
Leuven, BELGIUM
References
1. J. Evans, "Best Places to Work: Postdocs," The Scientist, 23(3):47-52, March 2009.
If amateur science is to flourish, as Richard Gallagher calls for in his editorial, we need to bring back better chemistry sets!
DIY, Really?
Years ago, many a kid got into science through chemistry sets. Unfortunately, the chemistry sets nowadays are extremely watered down from what was available 40 years ago. I think...
Gary Huber
Howard Hughes Medical Institute
La Jolla, CA
1 outlining the steps researchers should take when they suspect misconduct. The recommended route is to immediately go to the institutional ombudsman instead of the PI. As a PI I would want to know if anyone suspected data was being fudged in my lab. After years of preaching "the data is the data" if it wasn't I would want to know and not from someone in the dean's office.
Jeffrey Frelinger
University of North Carolina
Chapel Hill NC
1, as an author I have sometimes found Paragraphs from my book quoted without acknowledgment. However, though a little irritating, I believe "imitation is the sincerest form of flattery". (No, sorry, I don't know who said that originally!)
Barbara Vincent
Childers, Queensland, AUSTRALIA
1 it is rough being a faculty member and researcher at a university 70 miles from the northern border and in the middle of the country. I have seen it as high as 103 °F (39 °C) and as low as -47 °F (-43 °C) (no, that is the air temperature not the dreaded added wind chill). But, we have money, lots of it according to my colleagues in many other states.
We just hired two new faculty members in our department, each of whom is getting a competitive package. Now the jokes at national meetings about whether we have electricity and indoor plumbing are less frequent and as colleagues complain about salary cuts, I can proudly add that we are getting raises this year and next year. All of a sudden many of my colleagues at other institutions think it isn't so bad being at the University of North Dakota.
In August of 2006, The Scientist profiled UND as an example of significant inequalities in science funding, and alluded to researchers in our region having a significant reduced ability to acquire funding to further our research endeavors2. My how times have changed.
Eric Murphy
University of North Dakota
Grand Forks, ND
1. T. Ghose, "Schools in Energy States Flourish," The Scientist NewsBlog, March 18, 2009. http://www.the-scientist.com/blog/display/55511/
2. A. McCook, "The Inequality of Science," The Scientist, 20(8):26-33, August 2006.
Erratum
In the March Long Hot Paper, the full attribution for Cambridge University molecular biologist Steve Jackson was mistakenly omitted from the story. The Scientist regrets the error.
Interested in reading more?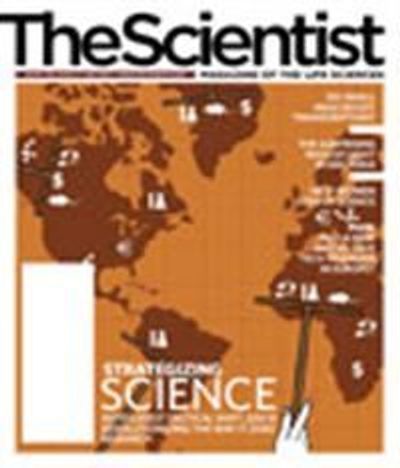 Become a Member of
Receive full access to digital editions of The Scientist, as well as TS Digest, feature stories, more than 35 years of archives, and much more!