US Office
400 Market Street, Suite 1250
Philadelphia, PA 19106-2501
Phone: (215) 351-1660
Fax: (215) 351-1143
E-mail: info@the-scientist.com

Europe Office
Middlesex House, 34-42 Cleveland St.
London W1T 4LB, United Kingdom
Phone: +44 (0) 20 7631 9983
Fax: +44 (0) 20 7631 9926

EDITORIAL

EDITOR
Richard Gallagher

DEPUTY EDITOR
Ivan Oransky

MANAGING EDITOR
Jeffrey S. Myers

SENIOR EDITORS
Brendan A. Maher
Jeffrey M. Perkel
Ken Howard Wilan

NEWS EDITOR
Alison McCook

ASSOCIATE EDITOR
Aileen Constans

STAFF WRITER
Ishani Ganguli

CORRESPONDENTS
Melissa Lee Phillips Stephen Pincock

COPY EDITOR
Bernadette Sullivan

EDITORIAL ADMINISTRATOR
June Holloway

DESIGN AND PRODUCTION

ART DIRECTOR
Marlene J. Viola

SENIOR DESIGNER
Joelle L. Bolt

PRODUCTION MANAGER
Lisa Modica

PRODUCTION ASSISTANT
Rick Contreras

WEB SITE ADMINISTRATOR
Cathleen M. Heard

WEB DEVELOPER
Rafal Chmielecki

WEB PRODUCTION ASSISTANT
Sam Pay

AUDIO PRODUCTION ASSISTANT Mungo Pay

MANAGEMENT AND BUSINESS

PRESIDENT AND FOUNDING EDITOR
Eugene Garfield

CEO
Vitek Tracz

DIRECTOR
Andrew Crompton

PUBLISHER
Richard...
SUBSCRIPTION RATES: In the United States & Canada individual subscriptions: $39.95. Rest of the world: air cargo add $25, air mail add $75. For institutional and online rates visit www.the-scientist.com/about/themagazine/subscribe. Send Subscription Orders to The Scientist, 400 Market Street, Suite 1250, Philadelphia, PA 19106-2501. copyright ©2006 by The Scientist, LLC., 400 Market Street, Suite 1250, Philadelphia, PA 19106-2501. All rights reserved.
LIST RENTALS: Contact Jane McDonnell of MKTG Services at (215) 867-4129 or by E-mail: jmcdonnell@mktgservices.com.
REPRINTS: Contact Julia Remick at (215) 351-1660 x3007 or by E-mail: jremick@the-scientist.com.
PERMISSIONS: for photocopy and reprint permissions, contact copyright clearance center at www.copyright.com
POSTMASTER: Send address changes to The Scientist, 400 Market Street, Suite 1250, Philadelphia, PA 19106-2501.
The Scientist is indexed in Current Contents, Science Citation Index, BasicBIOSIS, and other databases. Articles published in The Scientist reflect the views of their authors and are not the official views of the publication, its editorial staff, or its ownership. The Scientist is a registered trademark of The Scientist LLC. The Scientist® (ISSN 0890-3670) is published monthly.
Advertising and Circulation Office: The Scientist, 400 Market St., Suite 1250, Philadelphia, PA 19106- 2501. Periodical Postage Paid at Philadelphia, PA, and at additional mailing offices.
Interested in reading more?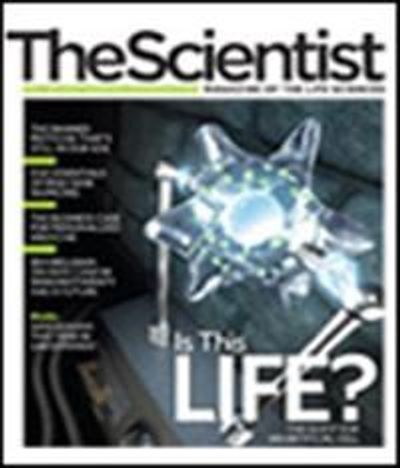 Become a Member of
Receive full access to digital editions of The Scientist, as well as TS Digest, feature stories, more than 35 years of archives, and much more!