Pharma on Facebook?
Within ten minutes after placing a phone call to say I was attending a Philadelphia conference for pharmaceutical marketing professionals who want to jump on the social media bandwagon, an electronic version of the childhood game "telephone" was in full swing. Bloggers at the conference posted notes online that a reporter was on her way; word got to people who were attending the conference via Twitter; and as I picked up my coat to leave my office the phone rang—someone at a company in Delaware wanted to learn more about my article.
That's precisely the viral, word-of-mouth power of online social networking media that pharmaceutical companies want to be more a part of. Some of the most popular networking sites include Facebook, Twitter, and LinkedIn, totaling millions of users—and potentially, millions of customers.
AstraZeneca launched a YouTube channel featuring testimonials from real users (not...
Tweet, tweet: "Asthma" has sent you a new message.
AstraZeneca's page is one of the few pharma-sponsored social networking sites that actually carries a product's brand name on it. But does anyone really want to be networking with what's in their medicine cabinet? "People don't want to be friends with Advair, but they might with asthma," says Jonathan Richman, the business development director for the marketing agency Bridge Worldwide. For example, a division of Ortho-McNeil-Janssen Pharmaceuticals, McNeil Pediatrics, has a Facebook page for mothers of children with ADHD. The site mentions no brand-name drugs, and serves as an online gathering place for the community. Even without a logo, a site can still be effective marketing, Richman says. "If I support the community of whatever disease I'm treating, overall I will do better in the long run," he says. "Doctors will view us more positively, patients will view us positively."
Richman started a wiki-page of social networking sites sponsored by pharmaceutical companies, and the list is growing (www.doseofdigital.com). Perhaps the most impressive site to date is Gardasil's "Take a step against cervical cancer" profile on Facebook—with more than 100,000 fans. (For comparison, American Idol's Facebook page has about 430,000 fans.) But the big difference between the two is that "Take a step" is a one-way communicator: no comments allowed. That is something no one in pharmaceutical marketing has quite figured out how to deal with: What if people post not just negative reviews, but adverse events, something the company is required to report to the FDA? This puts pharmaceutical companies in an uncomfortable position, says Steve Woodruff, the president of marketing company Impactiviti, who blogged during the social networking conference. Companies could be on the wrong side of regulations if they don't act on possible adverse event reports, "but it's in a format where we may not be able to act on it," he says.
Pharmaceutical companies "have to be very careful what they say, because there are agencies that will slap them with a very large ruler if the wrong things are said," says Woodruff. The main pitfall drug companies have to avoid is allowing any misleading information to pop up on a site they sponsor. So a pharma company could even get fined for posting information on a Twitter site that the Food and Drug Administration doesn't approve about a product. (Still fresh in the industry's collective memory is Eli Lilly's $1.4 billion in fines after its sales representatives spread unapproved claims.)
Currently, the FDA has no guidelines explicitly addressing adverse event reports on networking sites like Facebook, and companies like Pfizer are not willing to take a chance that any networking activities could inadvertently step into foul territory.
Instead, Pfizer has joined a physicians networking group called Sermo, where doctors identified as working for the company can provide information on products to other doctors in the network. "We're learning to use the medium," says Jack Cox, a Pfizer spokesman.
Interested in reading more?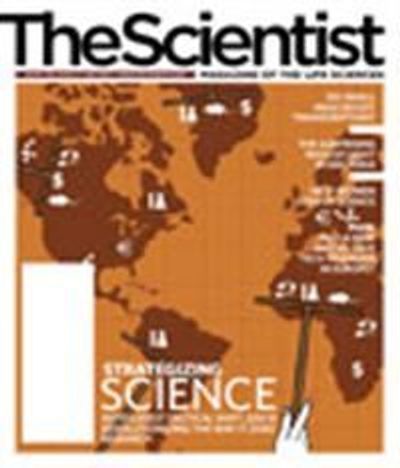 Become a Member of
Receive full access to digital editions of The Scientist, as well as TS Digest, feature stories, more than 35 years of archives, and much more!