In the middle of the afternoon of May 28, Susannah Eliott, CEO of the Australian Science Media Center, went to have her hair done. That evening, Eliott was participating in a press conference the Queen of England was going to attend; Eliott spent much of the day worrying about whether to curtsy.
The press conference was going to be a virtual affair, with paleontologists John Long and Kate Trinajstic and imaging expert Tim Senden sitting in Adelaide to talk about the remarkable fish fossil they'd found, along with Robyn Williams, Australia's best known science broadcaster. Most of the journalists and the Queen, were, unusually, going to be at the Royal Institution of Great Britain,...
Long and his colleagues had recently discovered a fossil placoderm, an extinct species of armored fish, preserved complete with embryo and umbilical cord inside, at the Gogo formation site in Western Australia (Nature, 453:650-2, 2008). Dated to be 380 million years old, it pushed back the earliest known live birth by some 180 million years.
Around 10:15 pm Adelaide time, David Attenborough's familiar visage appeared on the screen as he took the lectern in London. The scientists had named the fish in his honor: Materpiscis attenboroughi. How did he feel having a fish named after him? "Thrilled to death, and it was a very accomplished fish too," he says.
Eventually, both rooms fell silent as Baroness Susan Greenfield, the forthright Oxford neuroscientist who is also director of the Royal Institution of Great Britain, showed the Queen into the press venue in London. John Long stopped mid-explanation; a giggle floated from a table at the back of the room. The monarch, dressed in a green dress and hat, was silent, unsmiling. At one point in negotiations, Eliott says, it had been suggested that she ask the scientists a question, but royal protocol had quickly killed that idea. (The press conference was Greenfield's idea, to illustrate the workings of the UK's Science Media Center and its Australian counterpart, both founded at her initiative.)
"Good afternoon, Your Majesty," said Eliott (not curtsying). "It is a great privilege for us all here today ..." (At this point, the image on the screen cut out briefly - cue muffled groans - but Eliott carried on with aplomb.) " ... as it has been a great collaboration with the Science Media Center."
"So Susannah, you're doing a press conference on some new Australian bird or fish or something?" Greenfield asked with winning vagueness.
"It's a fish, and not just any fish," Eliott replied, before giving a rough description of the find.
Within minutes, the Queen was steered out of the room, without having spoken so much as a syllable. On departure, however, she did finally smile. Perhaps 10 minutes later, the Queen's husband, Philip, Duke of Edinburgh, and her cousin, the Duke of Kent, the patron of the Royal Institution, interrupted proceedings again in the press room in London. The two elderly men stepped into the room, looking grim-faced and incredulous, squinting at the cameras as if peering into an aquarium. Robyn Williams explained to them what's going on and suggested that they might like to ask a question.
"Can you show a fossil fish?" Prince Philip asked gruffly. "It's a little bit hard to imagine, just seeing you lot sitting there."
At this point, with midnight fast approaching in Australia, John Long did his best to paint a verbal picture, but the Duke looked unimpressed. "Well I wish it luck," he said, turning on his heel.
"You might be 380 million years too late," Williams replied, just after the satellite link ended.
Interested in reading more?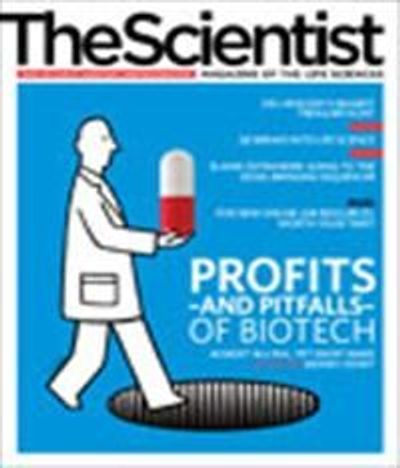 Become a Member of
Receive full access to digital editions of The Scientist, as well as TS Digest, feature stories, more than 35 years of archives, and much more!