Pride vs. tribe
A male lion saunters toward one of a safari of Land Rovers bumping its way along the floor of Ngorongoro Crater, a Tanzania National Park within the country's greater Ngorongoro Conservation Area (NCA). Inches from an open Land Rover window, the lion stops and glances at the vehicle's occupants. Without another look, he nonchalantly sidles up first to one tire, then another, and marks his territory, as lions do, with streams of urine.
In actions-speak-louder-than-words, wildlife-style, the lion has served notice that the Land Rover and its humans are "in." To a point. The lion has no worries: to protect the crater's wildlife, humans are not allowed to leave the confines of a Land Rover.
Outside Ngorongoro Crater and other preserves, humans are the most significant threat to Africa's lions (Panthera leo). In one way or another,...
Often that field surrounds a boma, or round, mud hut–lined Maasai village. There native Maasai tribes, known for their distinctive red dress, continue their traditional way of life—or try to—alongside animals like lions. But conflicts between Maasai and lions are becoming more frequent, say Packer, Dennis Ikanda of the Tanzania Wildlife Research Institute, and Bernard Kissui of the African Wildlife Foundation.
Tanzania law dictates that the Maasai may live in the NCA, but outside the crater. Still, some 80 percent of Maasai homesteads have had livestock taken by lions, either by day in fields or during the night from village corrals. In retaliation for livestock predation, the Maasai often execute lion "revenge killings." Tanzania regulations state that Maasai may hunt lions raiding their cattle, but for no other reason are allowed to slay a lion. However, Maasai also engage in ceremonial hunts by warriors, or Morani. The resulting death rate threatens two of the four prides in the NCA.
In one way or another, development directly abuts all the places lions are protected.
In one recent case, Ikanda and colleagues arrived at a Maasai village to find a group of warriors standing over a just-speared lioness. The Maasai claimed they had hunted her in response to a cattle killing 30 kilometers away the previous day. But the lioness couldn't have killed livestock across that distance, Ikanda believes, nor was it likely the Maasai had travelled that far on foot overnight.
Maasai graze their livestock in open pastures during the day, when one to three herdsmen—who are often very young—protect the cattle against lions. Cattle losses to lions, Ikanda believes, could be reduced if adults rather than children served as guards. Another solution: replacing wooden barriers with chain-link fencing in village corrals.
Conflicts between lions and Maasai reflect larger issues in the NCA, says Packer. The human population in northern Tanzania is growing by 4 percent each year, leading to inevitable clashes between people and wildlife.
On a June day under the African sun, with lilac-breasted roller birds flitting from Acacia tree to Acacia tree, human population growth and lion killing seem the problems of a distant planet. Low grasslands stretch toward a far horizon…a faint, wavering blue line...the curvature of the Earth. The "long rains" of March, April and May have just ended. In this briefest of interludes before the dry season, the land is still verdant.
During the dry part of the year in the NCA, zebras, buffalo and wildebeest don't have grasses upon which to graze. Large herds move with the rains, so only a small number of lions can live in the NCA permanently. It is in this dry season that livestock attacks become more common, when little other prey is available. In the wet season, however, transient lions follow migrating ungulates into the NCA. "Rainy season lions" are busy watching zebras, making them easier targets for what's likely ritual killing. "Otherwise," asks Ikanda, "why spear a lion at a time when it's unlikely to be anywhere near your livestock?"
Lions have a special presence, counters a Maasai warrior. "If you kill a lion, you are respected by everyone in your boma. But we are now of two worlds—the Maasai world, where lion-hunting is accepted, and an outside world that says it's wrong."
Interested in reading more?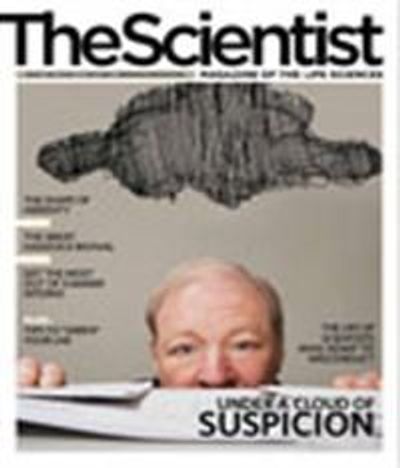 Become a Member of
Receive full access to digital editions of The Scientist, as well as TS Digest, feature stories, more than 35 years of archives, and much more!