Priority Setting at the NIH
Editor 's note : The following is an excerpt from Harold Varmus's upcoming memoir, The Art and Politics of Science, (Norton Books, Feb. 2009). In his book, Varmus recounts his days at the forefront of cancer research at the University of California, San Francisco, and shares his perspective from the trenches of politicized battlegrounds ranging from budget fights to stem cell research, global health to science publishing. Varmus served as the director of the National Institutes of Health director from 1993 to 1999, and is now president of Memorial Sloan-Kettering Cancer Center.
One of the most difficult aspects of the job of running the NIH, or of directing...
Shifts in funds assigned to the mechanisms for supporting research, such as the intramural versus the external grant programs, or differential growth of budgets for individual institutes, are often easier to absorb than changes that affect the dollars devoted to specific diseases. Directives to alter allocations for disease-oriented programs are especially problematic if they occur abruptly or come at the expense of research on another disease. The situation may be further complicated if the directives are demands from powerful people rather than consensual decisions.
One of my first exposures to this problem occurred soon after I arrived at the NIH, when I received a call from my own former congresswoman, Nancy Pelosi, asking me to add $50 million to the budget for AIDS research. As the representative from one of the districts most heavily affected by the epidemic, her wishes were understandable. Since she was a member of the House Appropriations Subcommittee for the NIH, she was in a position to try to increase funds for AIDS research when the subcommittee was debating the size of the NIH budget, without taking the money from some other research program. But, in that period of spending caps, she had presumably been unsuccessful in negotiations with her fellow committee members and was now trying to fulfill a promise to her San Francisco constituents by asking me to shift funds from some other budget categories into the Office of AIDS Research (OAR) account. I declined as politely as I could.
Sometimes it was not so easy to say no. Late one afternoon in May of 1996, as I was walking on the NIH campus, my driver pulled up with an urgent expression and asked me to take an emergency call on the car phone. A senior member of the administration—frankly, I don't remember who it was—told me that President Bill Clinton had just met the recently paralyzed actor Christopher Reeve for the first time that afternoon and had promised in the presence of the press to increase spending on spinal cord research by $10 million. I started to explain the difficulties of doing this when the phone was passed at the other end to a more junior person who said, basically, "just do it, don't argue, or you won't get the money." Of course, the White House was not in a position to send us any additional funds directly. But the president's wishes are always obeyed. When the next accounting was made of disease-specific spending at the neurology institute (formally known as the National Institute for Neurological Diseases and Stroke, or NINDS), the funds for spinal cord research were accordingly higher, and funds for other purposes were proportionately lower.
Advocacy narrowly focused on a single disease is often problematic for leaders of the NIH, because such advocacy is likely to be inconsistent with the ways science works best. Furthermore, the goals of such advocacy are often spending levels that are difficult to measure accurately. For example, research on a specific neurological disease, like ALS (amyotrophic lateral sclerosis, or Lou Gehrig's disease), should, in principle, include basic studies of nerve cells and mechanisms of cell death, in addition to clinical trials in ALS patients, which are readily classified. The basic work may be impossible to classify by disease category, since it could help to understand many neurological diseases or others. This is where the concept of scientific opportunity comes into play: Spending funds to seize a chance to understand a fundamental principle in biology is often a more effective approach to disease than mandating funds for research on a specific disease. Furthermore, efforts to understand another disease, even one that does not affect neurons, might prove to be a more valuable means to understand ALS than work on ALS itself.
My favorite examples of such serendipity come from the world I know best, cancer research. In the 1980s, our studies of retrovirus-induced breast cancer in mice led to the discovery of a class of genes, the wnt genes, which work in concert with several other genes that make components of what is called the wnt signaling pathway. Although there is still little evidence that this pathway plays a major role in human breast cancer, virtually every case of colon cancer is now known to be attributable to a defect in some part of the wnt pathway. Conversely, studies of a rat neuroblastoma (a brain tumor) in Bob Weinberg's laboratory revealed a new cancer gene (called neu, or HER2) that is often aberrant in human breast cancer. Today, an antibody (called Herceptin), formed against the protein made by the neu (HER2) gene, is used successfully in many thousands of women to prevent and treat metastatic breast cancer. So studies of breast cancer have helped with colon cancer, and studies of brain tumors have helped with breast cancer.
During my tenure, the NIH spent as much on AIDS as heart disease, even though heart disease killed twenty times more Americans each year.
Apart from the difficulties of predicting where and how discoveries will arise, the priority-setting process can be ugly— for instance, when advocates refuse to recognize, or to care, that funds for their disease must come from funds being spent elsewhere, including funds used for a disease important to another group of advocates. To justify their desires for more targeted spending, advocates will often claim that support for their disease has been historically inadequate or will focus on selected features of a disease that make the distribution of funds seem inequitable. Of course, very different impressions can be produced by the use of different criteria—the number of people living with a condition, the number who die from it each year, the age-adjusted death rate, the number of healthy individuals at risk, the number diagnosed each year, the annual medical expenditures, the annual costs to society, or the degree of pain and suffering. These are all legitimate aspects of the nation's burden of disease, but they are crude tools for deciding how to spend research dollars appropriately.
Nevertheless, such numbers are used, often to the discomfort of NIH and its institute directors. For much of my time at the NIH, I was castigated by advocates for research on heart disease because the NIH was spending about as much on AIDS research as on studies of heart disease, even though there were about twenty times more deaths from heart disease than from AIDS in the United States each year. The arguments tended to ignore other important facts: that AIDS was a new and expanding disease, that it is infectious, that it is devastating large parts of the world, or that age-adjusted death rates from heart disease have fallen by two-thirds in the past 50 years.
The passion behind such perceived injustices could produce some very unpleasant episodes, even when the NIH was making a genuine effort to expand research in disease areas where need and opportunity were clearly growing. For instance, I recall sitting through vituperative rants against the NIH by a Connecticut physician named Abraham Lieberman from the National Parkinson's Foundation, with his patient, a silent Muhammad Ali, by his side, while I was waiting to testify at a hearing about priority setting held by the House Commerce Committee in March 1998.
Dr. Lieberman had (perhaps understandably) misconstrued an authorized level of funding for NIH research on Parkinson's disease, $100 million, to be a mandate to spend that much. Indeed, by our measure, the NIH was spending at least $100 million, but we judged that some was spent on studies that directly affected patients with Parkinson's disease (such as clinical trials or diagnostic tests) and some on the underlying disease mechanisms (such as nerve cell death or dopamine metabolism) that might also apply to other neurological diseases. This did not make Dr. Lieberman happy:
What we're telling you is set up specific goals, conquer Parkinson's disease, and then you know you've spent the money well. To just give the National Institutes of Health additional moneys to do more and better science, you're going to be in the situation of saying to yourself, how do I know that I really did something.... [T]he scientists at the NIH have different priorities than the advocates of patients.
It was not easy to listen to this from the back of the room.
In the same year, some advocates for diabetes research, responding to perfectly legitimate concerns about rising rates of diabetes, especially type 2 diabetes, adopted an unusually militant approach, openly criticizing my management of the NIH and even picketing the Illinois home of John Porter, the chairman of our House Appropriations Subcommittee. (The attack on Porter was ill-conceived: His wife was a diabetic, his concerns about the disease were evident, and his support for the NIH was unsurpassed.) Responding to attacks of this kind is never easy, especially when the rhetoric becomes personal, the demands are excessive, and the budget isn't very flexible. In most instances, we designed a public hearing on the topic—often a workshop or (as for diabetes research) a larger symposium at the NIH, followed by a formal report from an outside advisory group—to review the current state of the disease and discuss new opportunities for studying it. Even when these conferences succeeded in defining areas that deserved a greater effort by the NIH and its grantees, it was often difficult to determine the numbers of dollars that should be shifted in the direction of the new efforts. After all, most of the extramural scientists who participated were already working in the contested area and had a vested interest in budget proposals that were as large as possible. At the same time, NIH staff felt an understandable obligation to moderate programmatic shifts and to protect current expenditures in other promising areas of work. These conflicting goals meant that plans could not easily satisfy all parties.
These comments are not meant to imply that advocacy for research on specific diseases is necessarily wrong, or that NIH leaders can simply divide up the funds according to the quality of grant applications, regardless of the research objectives. NIH must be (and it is) attentive to subject matter, and it must ensure (and it does) that at least some work is going on in all important areas. It should (and does) stimulate work on relatively neglected problems, especially when new opportunities arise, by advertising that funds are available for such research. One of the potential strengths of the NIH is its ability to encourage scientists throughout the country to pay greater attention to underserved and deserving problems, even when the new opportunities may not be obvious. Simply by encouraging attention to such problems—autism, rare neurological diseases, imaging methods, emerging infections or bioengineering, to mention a few areas promoted during my tenure—new ideas may emerge to create those opportunities. In this regard, the NIH must walk a narrow line: to respond responsibly to public health needs and yet to provide the freedom for investigators to exercise their imaginations as fully as possible.
Have a comment? E-mail us at mail@the-scientist.com
Excerpt from The Art and Politics of Science, by Harold Varmus, to be published in February 2009 by W.W. Norton & Company.
A Nobel Partnership
Editor's note: Harold Varmus and J. Michael Bishop met in the summer of 1969 during Varmus's search for labs working on cancer viruses, when he stopped by Bishop's institution, the University of California, San Francisco. This meeting sparked a years-long partnership that included a shared Nobel Prize in 1989 for discovering that retroviral oncogenes had a cellular origin.
A particular intellectual camaraderie developed between J. Michael Bishop and myself during my first few years at the then-burgeoning UCSF. As the more senior and better known, Mike had more grant money, more people already working with him, and more applications from prospective trainees. It was essential to the growth and success of our relationship that Mike was willing to share this bounty with a generous spirit.
For the years in which it prospered, the Bishop-Varmus partnership was a rare form of protracted collaboration in science. There are many examples of prominent scientific duets, but most of them are names linked by the famous experiments performed during brief times together or names also joined in matrimony. A partnership of two people working closely together for a decade or more without legal ties is highly unusual.
Mike and I both maintained some semblance of laboratory work, despite the other duties of faculty life, until our early forties, but it usually involved taking care of cell cultures (an essentially lonely activity) or doing a more elaborate experiment with a technician or trainee. Still, the hours we logged together were lengthy, usually a string of hour-long meetings in which a single student, fellow, or technician, or sometimes little groups of two or three who happened to be doing a project together, would tell us about their latest findings or failures. Then we'd all try to plan the next step or figure out what went wrong. It seems to me now that, perhaps strangely, we had relatively little conversation involving just the two of us; most of what we thought and said got worked out in conversations in which one or more of our junior coworkers were also present.
Despite the successes of our partnership, however, the imbalance between our roles as the senior and junior member eventually led to its undoing. Although Mike and I continued to share research space, most of our projects, and supervision of many trainees until 1984, we knew as early as 1979 that we were ultimately going to separate our laboratories by eleven floors and to uncouple most of our research activities. In the spring of that year, I learned from Mike that he had been offered the directorship of a semi-independent and well-endowed research institute within UCSF, the Hooper Foundation, near the top of one of the UCSF research towers, and that I would be welcome to join him.
This news triggered a number of reactions. On the one hand, the prospects of physically improved working conditions, with magnificent views and better financial support, were attractive. But the uncomfortable sense that I was the junior member of a faculty partnership was made less tolerable by the prospect of a widening, rather than a lessening, gap in stature. Mike would always be four years older, but that would presumably become less significant with time. He was (at least, in my view) the more effective and popular teacher, but that did not affect our research relationship. Within our institution, however, the leaders (chairpersons, deans, chancellor) tended to deal with him as the senior partner almost exclusively. His elevation to an institute directorship would solidify this aspect of our relationship and make me feel even less visible within my home base. I did not desire autonomy, dominance, or greater resources of my own; I wanted parity. It felt as though I would be moving away from that if I moved with Mike to the better endowed labs with the expansive views. So I said no.
The separation proved to be less difficult than I had expected. After many years of asking for improved laboratory space, I was rewarded with the chance to renovate our floor after Mike's group moved. In the process of separation, my laboratory group was growing and flourishing, so there was little reason or time to mourn the loss of the intense and pervasive relationship with Mike.
Soon, what had once been a single large team, became two independent groups that engaged in friendly competition (the annual Bishop–Varmus softball game), frequent collaboration (studies of proviral integration and certain oncogenes), and open exchanges of information and materials. Mike and I even seemed to become closer, once the new spheres of laboratory work achieved balance, through our increasing engagement in the politics of science. After I left UCSF in 1993, we remained in frequent contact. But the science on which our partnership was formed has, for the most part, given way to art and politics.
Interested in reading more?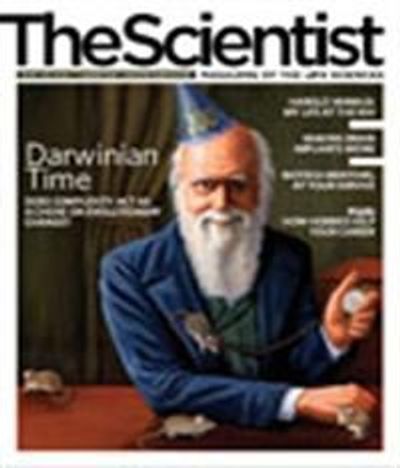 Become a Member of
Receive full access to digital editions of The Scientist, as well as TS Digest, feature stories, more than 35 years of archives, and much more!