Scoring on Sabbaticals
How to make the most of the precious time away from your usual duties.
Seven years after landing his first faculty job, and a year after securing tenure, Andrew Hendry earned his first year-long sabbatical, a precious respite from teaching and administrative duties that only comes around a few times in one's career. Last summer, Hendry, a McGill University evolutionary ecologist who studies speciation dynamics, packed up the car, and—together with his wife, two young daughters, and two cats—drove across the continent to spend the year at Hendry Ranch Wines, a vineyard in Napa Valley, Calif., that has been owned and operated by Hendry's family since 1939.
Although Hendry decided to carve out a unique, family-oriented sabbatical, it hasn't been all wine tastings and horseback-riding adventures. "It's really been...
In the first half of 2009, Hendry has published at a rate of about two papers per month—more than twice his normal pace—and in March, he was awarded the Natural Sciences and Engineering Research Council of Canada's E.W.R. Steacie Fellowship, which will pay Hendry's salary for the next 2 years. The work he put in during his time on leave has essentially translated into 2 more years of sabbatical, he says.
Sabbaticals rarely work out as planned. But a little planning can go a long way to ensure that academic leave—a treasured defining element of academic life—is not wasted. The Scientist spoke to three researchers who shared the highlights and foibles of their time off.
A world view
In September 2006, Arne Mooers boarded a plane with his wife and 1-month-old baby to embark on a "presabbatical sabbatical," as he calls it. Mooers, an evolutionary biologist who studies phylogenetics and patterns of biodiversity at Simon Fraser University (SFU) in British Columbia, wasn't due for an official sabbatical until July 2009, but he had been invited to Berlin, Germany, to spend the year at the Wissenschaftskolleg Institute for Advanced Study, an interdisciplinary research center where the "whole point is to bring together people who would never talk to each other," he says.
"I was exposed to radical new ideas that I hadn't ever thought about." —Arne Mooers
Mooers went to Berlin to work closely with leading spider systematist Wayne Maddison, who had organized a special focus group centered on phylogenetic biology. But he also conversed daily with historians, philosophers, musicians, theologians, and lawyers. "I was exposed to a new set of colleagues, all with the time and energy to think about other people's problems, including my own," Mooers says. "It was an opportunity for informal but intellectual interactions."
The experience broadened Mooers' horizons. For one, he teamed up with Georg Nolte, a Humboldt University lawyer, and started a new research program aimed at ascribing value to species and biodiversity in general. He has since taken on a master's student to further pursue the work. "Her research flows directly from the general exposure I got that year," he says. He also struck up a continued collaboration with Maddison, now at the University of British Columbia (UBC), with whom Mooers plans to spend his "true" sabbatical at the UBC Beatty Biodiversity Museum later this year.
Tips:
Don't forget your students
When a PI leaves on sabbatical, students can lose sight of their goals, says Mooers. "Things tend to languish when you're away," he says. In order to ameliorate the difficult situation, Mooers implemented an evolution mini-group with three SFU colleagues prior to his first sabbatical. The group would hold weekly lab meetings and cross-coordinated student training. "The other professors become the de facto supervisors" while he is away, Mooers says, which helps his students remain on point.
Think outside the box
"Sabbaticals are often really focused," Mooers says. "This place is much more diffuse. No one really got done what they said they were going to do. It's not a goal-directed type of place." But Institutes for Advanced Study (there are nine others spread throughout the United States, Europe, and the Middle East) offer meaningful interactions with people to whom you wouldn't normally give much attention. That's the value, says Mooers—those unexpected relationships can lead to your next big interest. "I was exposed to radical new ideas that I hadn't ever thought about."
Should I stay or should I go?
Princeton neuroscientist Sam Wang had big plans for his sabbatical. He had just finished writing a popular science book, Welcome to Your Brain, which debunks popular myths about the human brain, such as the misconception that we only use 10% of our brain's potential. In the fall of 2007, he stitched together parental leave and a one-semester sabbatical to obtain a year's relief from his normal teaching and other administrative duties. His plan was to promote his new book, reconnect with students, and explore new directions in his research into how brain circuits process information.
It didn't work out that way. "Taking a sabbatical and staying on campus was a failure," says Wang. Although he didn't have to teach classes, he still took on many administrative duties because he didn't want to seem unreasonable to his coworkers. "It was a source of stress to be around, look my colleagues in the eye, and pretend I wasn't there," he says.
"There was some success," notes Wang, "but that success involved leaving campus." The sabbatical freed up time to fly to Spain to promote the Spanish translation of the book and hop the train to New York City for radio interviews on Oprah and Friends and various National Public Radio shows. Wang also wrote Op Ed columns for the New York Times, Washington Post, and USA Today—something he hadn't done before.
Tips:
Say no
On his sabbatical, Wang sat on two committees: one to hire new faculty members, the other to recruit graduate students. "I can't think of anything less in the spirit of a sabbatical," he says. "Those are exactly the duties that you're supposed to escape." Wang didn't want to disappoint his colleagues, though, so he agreed to the tasks. In hindsight, Wang realizes that was a mistake. If he had to do the experience all over again and remain on campus, he says he would be more insistent in turning down administrative work.
Home improvement
Taking a sabbatical at home gave Wang the time to transform his lab and to move in new research directions. He shifted from studying neurons in brain slices to imaging neural activity in intact brains using two-photon microscopy. This involved building a contraption to hold animals during experiments, and learning the "non-trivial" art of small-animal surgery. Large-scale lab changes can be disruptive, so "the time was important" to help get things done quickly while his schedule was relatively free, Wang says.
A leave with family
When Caitilyn Allen started planning where to take her sabbatical, there was only one place she wanted to go: the National Institute for Agricultural Research (INRA) in Avignon, one of France's two government agencies devoted to plant diseases. At her home institution, the University of Wisconsin–Madison, Allen often felt academically isolated. She studies the plant pathogen Ralstonia solanacearum—a soil-borne bacterium that infects tropical and warm-temperate crops mostly outside of the United States, which can cause extensive damage to rainforests and agriculture. Despite this pathogen's impact on agriculture and some evidence of its introduction into the United States, few colleagues close to home work directly on the same research. So for her first sabbatical, in 2001, Allen wanted to go to a country that put a greater funding priority on tropical plant diseases. That was her dream, but then there was her husband, Don Waller, a plant biologist at UW–Madison, and their two daughters to consider.
"People should not stay at home for their children's sake." —Caitilyn Allen
Together, the couple decided that they would move to Avignon, and Waller would commute two days a week to the University of Montpellier, where he had scored a sabbatical to measure plant diversity. The girls, aged 6 and 11, were enrolled in French-speaking schools. "They adapted beautifully," Allen says.
Seven years later, the family returned to Southern France and arranged sabbaticals at the newly formed Montpellier SupAgro, a site dedicated to agricultural sciences. On their most recent trip, their younger daughter, 13, entered a public-school program, while the big sister, 18, took a 2-week intensive university course on the ethics of food labeling, which counted toward her bachelor's degree at Oberlin College in Ohio. "People should not stay at home for their children's sake," says Allen. Sabbaticals can be eye-opening experiences for the whole family, she says.
Tips:
Absorb new approaches
When on sabbatical, "throw yourself out of your element, but in a targeted way, so you have the opportunity to pick up some skills that you wouldn't have at your home institution," says Allen. She was able to learn how to work with a new plant pathogen and "serendipitously" started new projects, including a new collaboration with an industrial partner that she says "probably would not have taken off if I weren't here in France to meet personally with the relevant people." For Waller, who investigates ecological and environmental conservation issues, going abroad gave him a chance to discover alternative policy solutions. "We're here [in France] to learn new research techniques, new paradigms and new ways of operating," he says.
All in the family
If your family's not happy, your work will suffer, so you need to help your children adjust to the new environment while abroad. Back at home, Allen and Waller hired a French tutor and bought French language films to help their youngest prepare for the linguistic shift. And they encouraged their college-age daughter to test drive the idea of studying abroad by buying her a ticket to join them for a couple of weeks. "In part, we are lucky to have outgoing, adventurous kids," says Allen, "but I think it helped that we framed the sabbatical in advance as a big family adventure, a privilege and a treat. We included them in the planning and acted like it was a normal thing to do."
Interested in reading more?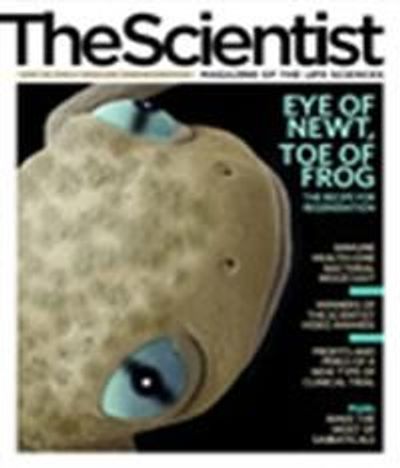 Become a Member of
Receive full access to digital editions of The Scientist, as well as TS Digest, feature stories, more than 35 years of archives, and much more!