Sea Robocop
Something strange has been happening in the marine grasses that shelter over 4000 kinds of species in the Indian River Lagoon, located on the east coast of Florida. Dolphins have developed crusts of fungus on their fins (60 died this past year). Turtles have sprouted tumors, and blooms of dinoflagellates—called red tides—have cropped up, turning the waterline silver with the bellies of fish.
Authorities and scientists suspect that nutrient overflows from onshore have caused the damage, but no one has the proof to identify the exact source. And while culprits like golf clubs and developers trade recriminations, over 400 coastal sites have become dead zones, areas depleted of oxygen, unable to sustain life. Some dead zones have reached the size of Massachusetts.
"As long as people can keep pointing fingers at each other, nothing gets done,"...
Motoring along the series of estuaries that trace Florida's eastern shoreline, Widder tethered the detectors to pylons. Networks of these foot-long devices, strategically placed in waterways, will allow biologists and conservationists to pinpoint the sources of pollution. "It's an enforcement mechanism," she recalls in a February phone interview. "Like giving a speeding cop a radar gun."
Kilroy can flag where the pollutant enters, determine its direction, and track it in its network downstream. It then transmits the data over cell-phone signal to an online map slated to go public this year. Most of the readings can be done with the temperature, conductivity, pressure gauges, and a triangle of flow sensors that stems from its base, but other instruments can be hooked in too, like a bioluminescence meter that can estimate populations of comb jellies (voracious predators that deplete fisheries) and red tides.
"Kilroy" is here—and monitoring our waterways.
"The Kilroy project is a way to get a finger on the pulse of the ocean in places where it's difficult to deploy big instruments," says oceanographer and National Geographic Explorer-in-Residence Sylvia Earle, based near San Francisco. "With the approach Edie and her colleagues have dreamed up, you can have many more places monitored because the devices are relatively small and inexpensive."
Kilroy came out of Widder's research with bioluminescence, or the light produced by sea creatures. Her work captured the interest (and funding) of the Navy because foreign satellites could potentially see submarines' positions in glowing waters. After the end of the Cold War, when covert-ops moved to the fore, the Navy realized that teams could be spotted coming ashore at night in bioluminescent coastal waters. Could Widder develop a detector that could predict water's glow, so that the Navy could sneak in unseen?
Widder saw a confluence of interests: Bioluminescence and pollution are both tackled by monitoring. And because pollution proliferates dinoflagellates, which glow blue, aspects of marine health can be told through bioluminescence.
Widder and principle engineer Eric Thosteson tinkered together a unit that combined the functions of several sensors inside the housing of a pool filter (the cheapest thing they found on the shelf—hence the funny shape). Instead of spending $20,000 for several individual sensors that measure one parameter (say, temperature) at one site, for $50,000 Widder could stud an entire waterway with 10 Kilroys. The savings stem from the fact that the more sensors you make, the cheaper each one is, and one unit with several functions costs less than several units that each perform one function. Once Kilroy goes into mass production, the costs will drop even further. Later this year, a second Kilroy network will be deployed along the notoriously polluted Chesapeake Bay. "I would love to see these things everywhere," says Thosteson.
Interested in reading more?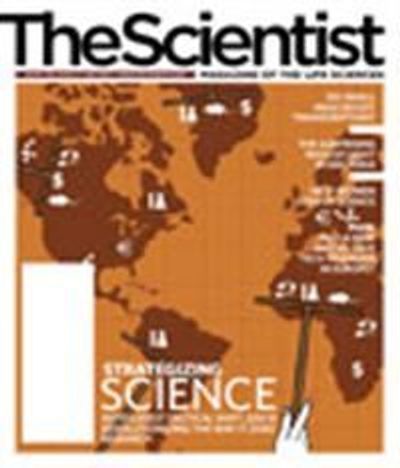 Become a Member of
Receive full access to digital editions of The Scientist, as well as TS Digest, feature stories, more than 35 years of archives, and much more!