The first 13-year-old patient

By Merrill Goozner
Nicholas White and François Nosten were not the first clinicians to use artemisinin in a human trial. That honor belongs to Li Guoqian, now a senior professor at the Guangzhou University of Traditional Chinese Medicine (GUTCM).
Military necessity has always been a major driver of antimalarial therapeutic advances, and when Vietnam president Ho Chi Minh asked Chinese Community...
"Chloroquine was the fastest drug, but even it took 12 hours before you saw a change in parasite load. So, I didn't check the patient until the following day. I couldn't find the parasite! This I had never seen." He tried it on a second patient with the same results. Within 48 hours, the parasites and the fever were gone.
Mao, in the midst of unleashing a Cultural Revolution that would temporarily destroy schools that taught western medicine, asked Zhou En Lai to establish a military research project on malaria that utilized China's schools of traditional medicine. Committees were soon established at every school, according to Li. A first organizational meeting was held at a Beijing restaurant on May 23, 1967, and they became known as the 523 committees.
The Beijing 523 committee discovered a method of isolating the active ingredient in qinghaosu, which they named qinghaosu. It took about four years to stumble on a low-temperature method of extraction, thus confirming the wisdom of a 1,600-year-old recipe: In 340 A.D., medical author Ge Hong wrote in Zhou Hou Bei Ji Fang (Handbook of Prescriptions for Emergency Treatments) that soaking a handful of qinghaosu in about a liter of cold water and then straining and drinking the fluid would provide relief from fever. Further, in 1596, one of China's most renowned herbalists, Li Shizhen, recommended the plant's extract specifically for malarial chills and fever.
Dr. Li Guoqian, 70, professor at Guangzhou University of Traditional Chinese Medicine. Dr. Li first tested artemisinin in patients in 1971 in Yunnan Province along the Burmese border.
The first batches of the drug were sent to Li Guoqian, who ran the largest 523 committee in southern China in Guangzhou. The son and grandson of traditional practitioners, Li graduated from GUTCM in 1955 and eventually gravitated toward malaria research. While the other 523 committees raced to discover drug candidates, he established clinics in the malaria-infested jungles of the southern province of Yunnan, which runs along Burma's northern border. He remained there from 1971 to 1974.
Li, now 70, recently recalled for me the first patient he treated with artemisinin. "He was 13 years old, a primary-school student. He had very severe malaria symptoms. I gave him an oral tablet - 100 milligrams." The results, he says, amazed him.
He eventually tested it in 18 patients, 14 of whom had Plasmodium falciparum. He compared them to six patients he treated with his limited supplies of chloroquine. "The parasite decreased more than 95 percent after 16 hours with artemisinin," he said. "To get the same results with chloroquine, it took 40 hours." He never published the research. "It was a military secret," he laughs.
It wasn't until 1979 - the same year Deng Xiaoping traveled to the United States and kicked off China's rush to modernization - that People's Daily, the main organ of the Chinese Communist Party, announced the results of the 523 research program. It was too late for Vietnam's soldiers (who by that point were fighting China on their northern border), but the world had a new weapon in the war against malaria.
Interested in reading more?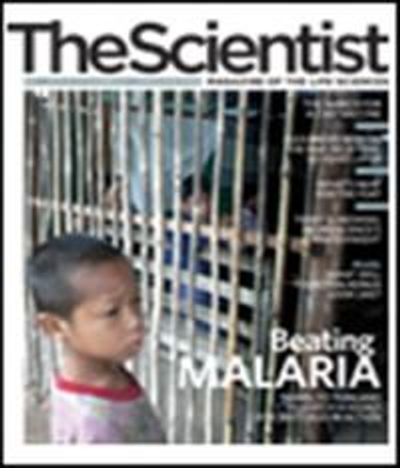 Become a Member of
Receive full access to digital editions of The Scientist, as well as TS Digest, feature stories, more than 35 years of archives, and much more!