The Future of U.S. Science Policy
In late 2001, the George W. Bush Administration stripped the Office of Science and Technology Policy director John Marburger of his official title - "assistant to the president" - and moved the office from its longtime home in the Old Executive Building in the White House complex to a site blocks removed from the Oval Office. It was a short distance, but symbolic, say critics of how the administration has handled science.
On top of frequent news articles quoting accusations of government meddling in science over the...
"At a minimum, one could say that the last seven or eight years certainly have been a mixed bag for science," says Alan Leshner, CEO of the American Association for the Advancement of Science. "Is that reparable?" he asks. "Yes. Is it easily reparable? No."
If it is to be repaired, who might do it? Here, we profile four leaders who tend to stay out of the spotlight, but who have the potential to wield great influence over our country's stance on science, and the fate of US researchers.
Neither of the two presidential candidates - Democrat Barack Obama nor Republican John McCain - has expansively enunciated his vision for science policy, but the voting public has gotten glimpses of how the candidates might treat science as the next US President.
"Among other changes, making things better requires input from knowledgeable science policy advisors"
Answering a questionnaire issued by science advocacy group Research!America in October last year, Obama wrote that he supports increasing funding at the NIH, the Centers for Disease Control and Prevention (CDC), and "expanding and accelerating research using stem cells lines." In July, McCain also answered the questionnaire, writing that he supports funding the NIH and CDC (though not stating explicitly that he supports increasing funding of those agencies). Though McCain's answers were briefer than Obama's, he wrote that he also supports expanding stem cell research and has voted for some of ill-fated Congressional bills designed to overturn Bush's 2001 funding restrictions. McCain also wrote, however, that "clear lines should be drawn to reflect a refusal to sacrifice moral values and ethical principles for the sake of scientific progress," to underscore that "recent scientific breakthroughs raise the hope that one day this debate will be rendered academic."
The two candidates seem to have more closely aligned views on the importance of addressing climate change. Both have voiced a desire to expand the fight against global warming through developing alternative energies (though Obama speaks more about wind and solar, while McCain also trumpets cleaner coal and nuclear) and limiting carbon emissions.
Science policy experts agree that the next US President must first rhetorically mend the rift between research and politics in this country. According to Leshner, this healing starts with clear language about the importance of science and technology. "When leaders tout the place of science," says Leshner, "when they appreciate and recognize the contribution of science to modern life, it has a very big influence."
Equally important, says Research! America president Mary Woolley, is that the next US President restores the importance and prominence of his science adviser. "I think [the position] should be cabinet-rank," she says. Henry Kelly, president of the Federation of American Scientists (FAS) agrees. "The role of this person is more important than it has ever been."
Another part of restoring science's place at the political table, according to Woolley, is "recommitting to strong federal investments in the science-based agencies," such as the NIH, the National Science Foundation, and the CDC. "We need to put our money where our vision is."
Regardless of the November election's outcome, the scientific community seems to be looking forward to an improved relationship between science and politics. "I think we're all quietly hopeful that things will get better," says Leshner. Among other changes, making things better requires input from knowledgeable science policy advisors. Here are a few you may be hearing more from in the near future.
Click on the four names listed in the Article Extras box on the right to read about the four policy experts: Ken Thorpe, Egils Milbergs, John Porter, and Lana Skirboll.
Interested in reading more?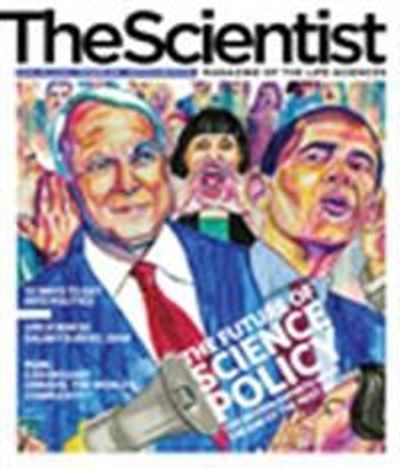 Become a Member of
Receive full access to digital editions of The Scientist, as well as TS Digest, feature stories, more than 35 years of archives, and much more!