Top 7 From F1000
1. Immune response feeds parasite » Salmonella is able to outcompete resident gut microbes by deriving energy from the inflammatory immune response that is supposed to combat the pathogen.
S.E. Winter et al., Nature, 467:426-29, 2010. Evaluated by P. Malik-Kale & O. Steele-Mortimer, NIAID; E. Guccione & D. Kelly, Univ Sheffield; M. Vijay-Kumar & A. Gewirtz, Emory Univ; D. Alpers, Wash Univ School of Med; A. Kurakin & R. Khosravi-Far, Beth Israel Deaconess Med Cen; M. Hensel, Univ Osnabrück; Y. Sun & M. O'Riordan, Univ Mich Med School; W.D. Hardt, Swiss Fed Inst of Tech; J. Moir, Univ York; V. Nizet, UCSD. Free F1000 Evaluation
2. Lung disease drug kind to muscles » Patients with acute respiratory distress syndrome using a neuromuscular blocker are more likely than those on a placebo to survive 90 days, and show no increase...
L. Papazian et al., N Engl J Med, 363:1107-16, 2010. Evaluated by A. Benson & I. Douglas, Univ Colorado and Denver Health; M. Gropper, UCSF; R. Basner, Columbia Univ College of Physicians and Surgeons; J. Sellares & A. Torres, Hosp Cln de Barcelona; M. Gama de Abreu, Clinic Carl Gustav Carus; J. Neely & A. Vuylsteke, Papworth Hosp; G. Martin, Emory Univ; M. O'Connor, Univ Chicago; P. Fassbender & M. Eikermann, Mass Gen Hosp. Free F1000 Evaluation
3. Making peace with gut flora » Dendritic cells in the gut have beta-catenin signaling turned on constantly in order to subdue inflammation and keep immune cells tolerant to commensal bacteria and food antigens, offering a potential therapeutic target for autoimmune diseases.
S. Manicassamy et al., Science, 329:849-53, 2010. Evaluated by A. Hurwitz, NCI; C. Fagundes & M. Teixeira, Univ Federal De Minas Gerais; K. Takeda, Osaka Univ; J. Berzofsky, Cen Canc Res, NCI; B. Rouse, Univ Tenn; T. Lund, Univ College London. Free F1000 Evaluation
4. Thermo dynamics » Plants and yeast may be able to sense temperature through histone-mediated nucleosome rearrangements, which result in variations in gene expression, posing a possible mechanism for response to temperature stress.
S.V. Kumar & P.A. Wigge, Cell, 140:136-47, 2010. Evaluated by M. Seki, RIKEN Plant Sci Cen; D. Zheng, Albert Einstein College of Med; D. Weigel, MPI Devel Bio; T. Palva, Univ Helsinki; S. Magori & V. Citovsky, SUNY Stony Brook; Y.M. Kong & X.W. Deng, Yale. Free F1000 Evaluation
5. New function for noncoding RNAs » Long noncoding RNAs, previously known to silence expression of certain genes, also play a role in gene activation.
U.A. Ørom et al., Cell, 143:46-58, 2010. Evaluated by L. Ringrose, Inst of Mol Biotech GmbH; A. Clery, Dominik Theler & F. Allain, ETH; J. Abrams, U of Texas Southwestern Med Cen at Dallas; H. Steinbeisser, Univ of Heidelberg; E. Lara-Pezzi & N. Rosenthal, EMBL. Free F1000 Evaluation
6. Antibody action » Previously assumed to only act extracellularly, researchers show that antibodies can fight viruses inside the cell as well.
D.L. Mallery et al., PNAS, 107:19985-90, 2010. Evaluated by L. Walter, German Primate Cen; D. Alpers, Wash Univ School of Med; N. Vigneron & B. Van den Eynde, Ludwig Inst Canc Res; G. Versteeg & A. Garcia-Sastre, Mount Sinai School of Med; D. Koch & N. Sawtell, Cincinnati Children's Hosp Med Cen. Free F1000 Evaluation
7. Pain relief for the addicted » In opiate-dependent patients, pain relief is tough to achieve, but those who received an N-methyl-d-aspartate receptor antagonist with anesthesia during back surgery reported less pain and needed less morphine during recovery.
R.W. Loftus et al., Anesthesiology, 113:639-46, 2010. Evaluated by A. Schubert, Ochsner Health System; P. Dandegaonkar & M. Serpell, Gartnavel Gen Hosp; C. Rivat & P. Richebe, Univ of Washington; L. Le-Wendling & A. Boezaart, Univ of Florida College of Med; A. Barreveld & D. Correll, Brigham & Women's Hosp; A. Lynn, Children's Hosp, Seattle; D. Gupta, Feinberg School of Med Northwestern Univ. Free F1000 Evaluation
The Top 7 is a snapshot of the highest-ranked articles from a 30-day period on Faculty of 1000. Faculty Members rate the most important papers in their field. To view the latest rankings, search the database, and read daily evaluations, visit http://f1000.com/.
Interested in reading more?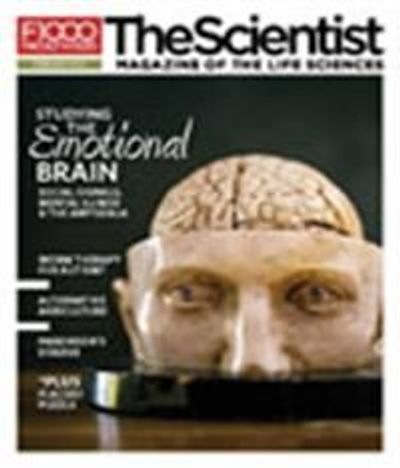 Become a Member of
Receive full access to digital editions of The Scientist, as well as TS Digest, feature stories, more than 35 years of archives, and much more!