Cultivating scientific leaders is a bit like drug discovery. To produce a drug, two different, but complementary, strategies are employed: random screening, to isolate the one-out-of-a-millioncompounds with the best traits; and rational design, to further improve those traits inherent to the initial structure. These synergistic approaches are the cornerstones of modern drug discovery, but reliance on either one alone rarely yields the final desired result.
In the same way, scientific leaders must possess the right mix of character traits to effectively lead a laboratory, and they must be trained so their innate capabilities are improved and effectively applied. Too often, only the first of these – innate capabilities – is used to choose the leaders of science. Scientists in leadership positions throughout academia, industry, and government often have little if any training in personnel management, financial planning, marketing, or strategic decision-making. Rather, they are selected based on their innate capabilities...
CULTIVATING LEADERS THROUGH EXPERIENCE, EDUCATION
The need for scientific leaders makes alternative education and training options more relevant to scientists. These include MBA programs, Masters in Biotechnology programs, experience-based organizations (such as the student-run Penn Biotechnology Group at the University of Pennsylvania), and topic-specific training courses. Mentoring and practical advice are complementary to formal education. Whichever route is chosen, cultivating scientific leaders is less about the educational pathway than about empowering individuals with the decision-making tools they need to manage an organization.
The Marketing of Science: The Four C's
Consumer (other scientists)
• Who is the target audience for your research?
• Who will care most about your research?
• Who will read your papers?
• Which reviewers will appreciate your funding ideas?
Company (your laboratory)
• What are the core capabilities of your laboratory?
• What are the strengths and weaknesses of your lab, equipment, resources, expertise, team, advisors?
• What are the types of questions you can readily address?
Competition
• Who else is working on similar questions? Not just organizations, but individual scientists. Is it a team of 20 PhDs or a single technician?
• Does competition validate the importance of your work?
• Are there collaborative opportunities with competitors, or do they solely compete with you?
Collaborators
• Who else has a vested interest in your research? Your department? Other scientists who rely on your results? Competitors (for advancing the field and identifying its importance to funders)?
• Who else would want to know the answers to the questions you are asking?
• Do you have specialized capabilities that may complement someone else's?
In my own career, I found that the skills I developed in business school helped complement my scientific training to make me more effective as both a scientist and a leader. There are other routes for gaining leadership experience and training, both formal and informal, which may be just as effective. However, without guidance or opportunity, the default pathway has become no training at all.
The result of failing to make leadership skills a priority for scientists is that valuable managerial skills rarely migrate back to the lab. For instance, I know of only a single academic scientist who also has an MBA. Similarly, of the dozen PhD scientists in my own MBA program, I believe I am the only one who ever picked up a pipette-man again to conduct or even plan another experiment.
Management training is more common in industry, but even there, many scientists who receive leadership and/or management training switch to the business side of the company (for example, finance, marketing, business development) rather than leading research activities. The reasons for switching from science to business aren't difficult to understand. The rewards and respect from recruiters at investment banks and consulting companies are difficult to ignore. Recruiters in science are difficult to even find. Without active recruitment and training policies, science will continue to lose some of its most effective leaders.
THE LAB AS AN ENTREPRENEURIAL ENTITY
The need for leadership and management skills in science is apparent when one realizes that leading a laboratory, even in academia, is similar to leading a small company. The principal investigator, as the entrepreneur, has nearly complete discretion over his/her laboratory, staff, and funds, as well as an investor to whom he/she is accountable (i.e., the university), and a small amount of seed money from that investor (startup funds).
The principal investigator is expected to have a financial exit within 3 to 5 years (becoming financially independent of the support of the university), and the investment must pay dividends back to investors (in the form of grant money and manuscripts). The principal investigator must manage and motivate employees, balance budgets, decide how to spend limited funds, and convince investors and "consumers" (reviewers, peers, readers) that his/her research is important and worth supporting. It may seem sacrilegious to introduce entrepreneurial skills to scientists, but the fact is that scientific leaders already act as entrepreneurs.
Perhaps less obvious, however, are how skills in compensation structure, the economics of supply and demand, and strategic marketing can be used to make better decisions in scientific research. As an example, take "the four C's" of strategic marketing, a topic most scientists might think they would have no reason to learn. The four C's constitute a basic framework taught to every novice business student to help formulate a successful marketing strategy. They stand for Consumer, Competition, Company, and Collaborators – each of which is a consideration in deciding the best approach to selling a particular product (see list). These principals are just as applicable to scientific projects as they are to commercial products.
The marketing questions raised by the four C's aren't really new to anyone in science. Investigators routinely answer them, albeit usually in an informal way, to determine what areas of research to pursue, what labs are competitors and collaborators, and what topics are being funded. The answers also may seem obvious – most informed scientists will (and should) arrive at these answers over time even without a formal plan. However, having a framework for strategic decision-making ensures informed and rational decisions are made, promotes discussion and research of each consideration, provides the groundwork for devising a plan of action, and communicates the plan to others, including young scientists who may or may not take into account all of these factors when choosing their own research focus. No well-managed company would spend millions of dollars in research funds developing a product without a carefully considered plan, so why would any scientist?
An idealist may think that "marketing" good ideas or data in science is unnecessary. After all, isn't science all about the data? But any scientist who thinks that their ideas, experiments, and inventions will be appreciated simply because they are brilliant has likely never received comments from reviewers who "just don't get it." Scientific marketing is already an everyday practice – "selling" ideas and data to reviewers, deciding what and how to pursue projects, and delivering presentations and posters – but science uses different terminology and doesn't have a mechanism to guide the process.
Clearly there is no single method for cultivating leaders, in science or any other discipline – leaders will always emerge from the right mix of character, experience, and training. The last of these, however, leadership training, is currently absent from most science education programs at any level. It is important not only to offer such training to scientists, but to also increase the incentives and opportunities to enter leadership positions within science by making training both socially acceptable (in scientific circles) and financially rewarding. Most scientists who graduate with PhDs will occupy positions of influence at some point in their career, often in organizations that directly or indirectly influence the direction of scientific research. Preparing them to lead scientists, rather than just perform scientific experiments, should be a major priority.
Benjamin Doranz is president, chief scientific officer, and cofounder of Integral Molecular, a Philadelphia-based company. He received his PhD from the University of Pennsylvania as a Howard Hughes Medical Institute predoctoral fellow, and is a codiscoverer of the coreceptor for HIV. He received his MBA from the Wharton School of Business where he won the Wharton Business Plan Competition.
He will be contacted at bdoranz@integralmolecular.com
Interested in reading more?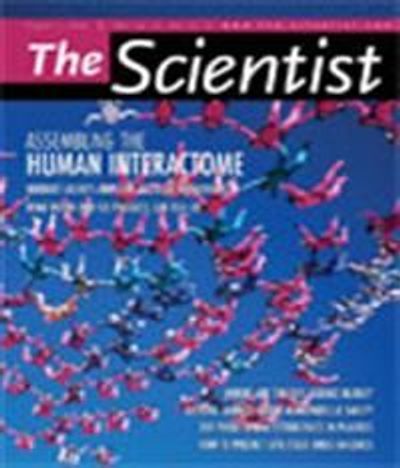 Become a Member of
Receive full access to digital editions of The Scientist, as well as TS Digest, feature stories, more than 35 years of archives, and much more!