On Wednesday (August 28), Tom Higham, an archeology professor at the University of Oxford, took a break from tweeting about Boris Johnson, parliament, and Brexit to make a declaration. He would "not attend the [European Society for the study of Human Evolution] meeting in Liège in September," Higham tweeted. "Change is urgently needed. I'm not prepared to be a silent & anonymous bystander anymore."
Higham, who tells The Scientist he's been a member of ESHE since its founding in 2011, appears to be the first person to use his name when publicly backing out of the meeting in order to press for change. But in doing so, he adds to mounting criticism of ESHE for what some researchers say is a failure to take action in the face of sexual harassment and...
Accounts of Hublin's purported sexual misconduct emerged publicly in January of this year when freelance journalist Michael Balter published a blog entry detailing an episode in which Hublin allegedly pursued a graduate student during an excursion following the ESHE 2015 meeting and failed to inform her that he was married until after they began a relationship. Anonymous sources told Balter that even before the incident, Hublin had "a sleaze-ball reputation," that he had made sexual advances on other women at scientific conferences, and that he once fired a postdoc in his lab out of jealousy after finding out that the postdoc was in a relationship with Hublin's secretary.
In April, a post appeared on the site Medium that cited Balter's reporting and declared in part, "We are a group of PhD students and early career researchers from the UK, and between us we regularly attend ESHE and other biological anthropology conferences. We do not want to attend the meeting now we know the president is a sexual harasser." The author or authors of the post explained they wish to remain anonymous for fear of suffering professional consequences. "We hope senior members of the ESHE membership will take this on board and push for Jean-Jacques Hublin to be replaced," they wrote. The authors of the post also run a Twitter handle, Boycott ESHE 2019 (@ConferenceEshe), that currently has a little more than 300 followers.
Since the @ESHE_society board and ombudspersons are seemingly happy with having a known sexual harasser as president, we are calling for a Boycott of ESHE 2019 in September. #BoycottESHE #MeTooSTEM #archaeology #ESHE19 #ESHE2019 #SAA19 #SAA2019
https://t.co/gUaZsuLWae

— Boycott ESHE 2019 (@ConferenceEshe) May 27, 2019
More public allegations against Hublin appeared in June, when Tanya Smith, a former postdoc of Hublin who is now a professor at Griffith University in Australia, wrote that Hublin had bullied her in retaliation for leaving him off of a Nature paper she published after she had left his institution for Harvard. "Jean-Jacques . . . filed a formal complaint with Harvard alleging ethical misconduct, including the theft of fossil material. This searing allegation of the ultimate violation in my field was patently untrue," she wrote. "I feel that I am only one of several early career researchers and senior scholars that Jean-Jacques has bullied around issues of intellectual property and co-authorship."
In an email to The Scientist, Hublin calls the allegations about his behavior "a toxic mix of half-truths, professional rivalry, and conspiracy theory propagated by people who have no clue of their background. I do not and did not engage in any misconduct." He says the Max Planck Society investigated the affair with the graduate student and concluded it was "a purely private issue with no evidence of misconduct." Smith's accusation of bullying, he says, stems from "one of the very rare disputes I had with former employees." According to Hublin, Smith exported hominin fossil samples "illegally, without my permission, and without permission from the actual curators of the specimen." (Smith writes in her account that she did have permission, and that Hublin's accusations were unfounded.)
Smith supports the boycott of the ESHE meeting, she tells The Scientist in an email. "I continue to believe that a boycott of ESHE is appropriate given the lack of action by the ESHE Board Officers, including the Ombudspersons - who contacted me for additional information following [a tweet Smith posted about ESHE in May], but have not been in touch since I shared my own account of bullying the following month."
ESHE did not respond to a request for comment for this article. The organization has a "Statement on creating a safe and open working environment" and two ombudspersons whose role "is to act on behalf of the participants of the ESHE annual meetings in matters relating to misconduct," according to its website.
It is not clear how many people are behind the Boycott ESHE 2019 handle, or how many supporters their movement has. Hublin suggests it's not many, writing, "So far there does not seem to be a boycott of ESHE: in the course of the past months, there were calls only by two identified scholars and by an anonymous group that claims to be [early career researchers] from the UK."
Higham says he doesn't know who's in the group behind the call for a boycott. He decided to act because "I feel that we are in a stage where we need to step up as in my case, as senior people and provide some support for younger researchers, emerging researchers" in combatting bad behavior, he says. "We want to have a space which is safe for people to attend meetings and conferences and field work." One step ESHE should take in that direction, Higham says, would be to have a code of conduct for meetings that attendees must agree to, with consequences for violation.
In calling for action by ESHE, Higham and the boycott group cite a recent incident at the Society for American Archaeology annual meeting as the type of situation the ESHE meeting needs to avoid. In that case, a researcher who'd been banned from his own campus over sexual assault and harassment was able to attend the meeting, where students who'd filed complaints against him were present. "We spent the rest of the day in constant fear of him showing back up," one of the students told The Scientist at the time. "We did not really get to go into any of the sessions we wanted to."
Shawna Williams is an associate editor at The Scientist. Email her at swilliams@the-scientist.com or follow her on Twitter @coloradan.
Update (August 30): Due to an editing error, an unattributed quote was originally included at the end of this article, which has now been deleted. The Scientist regrets the error.
Interested in reading more?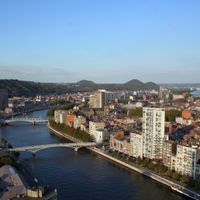 The Scientist ARCHIVES
Become a Member of
Receive full access to more than 35 years of archives, as well as TS Digest, digital editions of The Scientist, feature stories, and much more!