Image of the Day: A Swell Idea
To improve the resolution of biological samples at the cellular level, researchers inflate tissues with "swellable polymers" so that they're easier to see under the microscope.
The Scientist Staff
Jul 19, 2017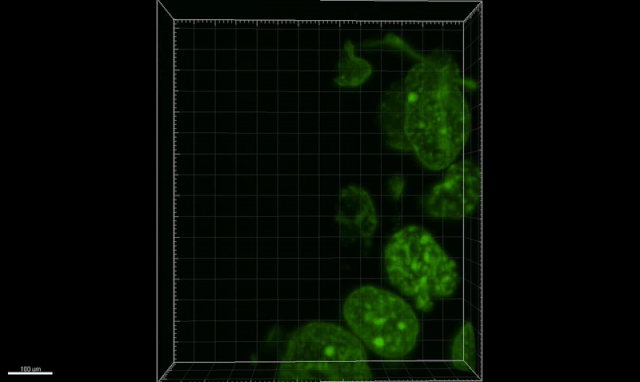 Enlarged breast cancer tissueOCTAVIAN BUCUR/LUDWIG INSTITUTE FOR CANCER RESEARCH In a study published this week (July 17) in Nature Biotechnology, Harvard and MIT scientists inflated human tissue samples of kidney minimal change disease and precancerous breast lesions to better visualize these pathologies using a technique called expansion microscopy.
"We can apply this method to any type of clinical sample and all types of human tissues, including normal and cancerous tissues," says MIT scientist and co-lead author Yongxin Zhao of MIT in a news release.
See Y. Zhao et al., "Nanoscale imaging of clinical specimens using pathology-optimized expansion microscopy," Nature Biotechnology, doi:10.1038/nbt.3892, 2017.