When yellow-legged gulls call out in alarm, their offspring heed their warnings—even if they haven't hatched yet. A new study suggests that unhatched gulls vibrate their eggshells to warn nestmates of the danger, too, researchers reported yesterday (July 22) in Nature Ecology & Evolution. The developing gulls may be able to alert nestmates to danger regardless of whether their siblings have yet developed a sense of hearing.
"It is already well known that embryos are able to perceive certain cues from outside the egg, but it has not been known until now that they can capture this information from outside and transfer it from one embryo to another," says coauthor Jose Noguera, an evolutionary ecologist at the University of Vigo in Spain, in an interview with The Guardian.
Noguera and his colleagues collected 90 gull eggs on Sálvora Island, a small land...
The researchers exposed 30 eggs to recordings of these iconic cries, four times a day, while they exposed another 30 to white noise to serve as controls. A remaining 30 eggs stayed nestled in their quiet incubator in the field station. Eggs played the warning cry shook at the sound and continued shaking when placed back in their nests. Unexposed nestmates seemed to pick up on the change, and began shaking more than controls' nestmates did.
The quaking eggs hatched later than controls, too, and exhibited faster reflexes and higher levels of the stress hormone corticosterone once they did. The young birds vocalized less and crouched more quickly at signs of danger. The chicks' DNA was more highly methylated than controls, suggesting that exposure to alert calls and embryo-to-embryo chatter may have altered when genes were activated during development.
"It's one thing if everybody is on the same page—they hear the same thing and respond the same. But this study suggests that birds that are a day or two advanced can communicate their wisdom to their siblings," says Kevin McGowan, an ornithologist at Cornell University, in an interview with The New York Times. McGowan, who was not involved in the study, noted that the results were "completely unexpected."
"If an embryo is able to capture information about its environment, it is probably going to be able to capture information about how many potential siblings, or competitors, will hatch," Noguera tells Scientific American. He aims to study embryo-to-embryo interactions further to learn how nestmates adapt during development and how well the siblings survive once hatched.
Nicoletta Lanese is an intern at The Scientist. Email her at nlanese@the-scientist.com.
Interested in reading more?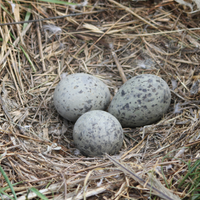 The Scientist ARCHIVES
Become a Member of
Receive full access to more than 35 years of archives, as well as TS Digest, digital editions of The Scientist, feature stories, and much more!